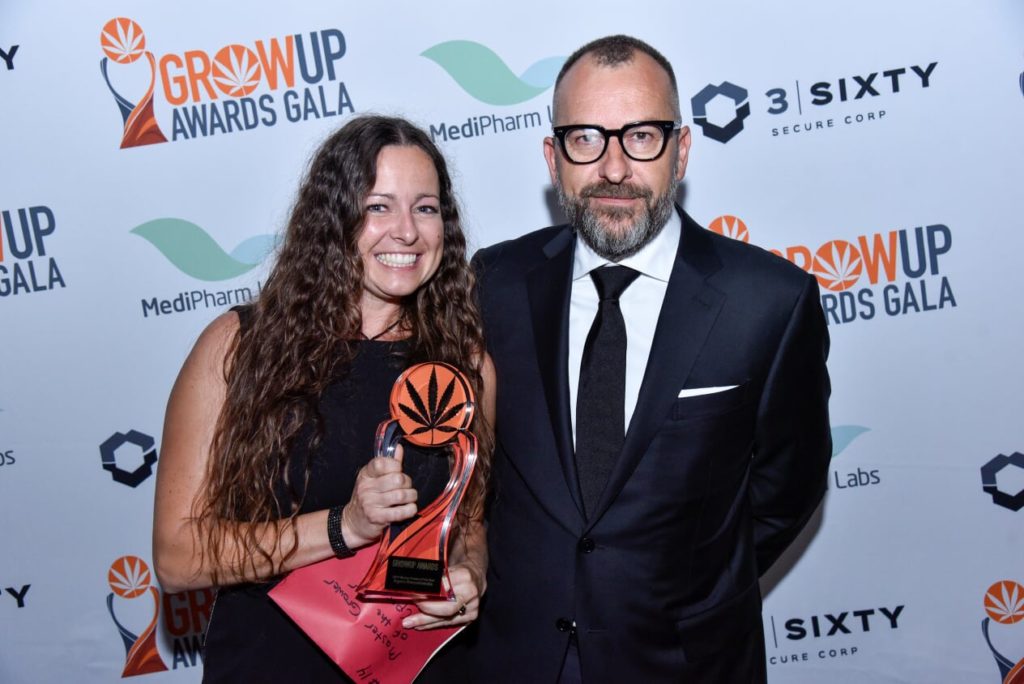 Shattering the Grass Ceiling: Agnes Kwasniewska from Hexo Corp. Awarded Master Grower of the
Year at Inaugural Grow Up Awards Gala
NIAGARA FALLS, ON (September 14, 2019) — Few women achieve the title of Master Grower in the cannabis industry, and even fewer receive industry accolades. Thursday night, however, all that changed at the first ever Grow Up Awards Gala, when Hexo Corp.'s Agnes Kwasniewska was honoured with the prize of Master Grower of the Year..
The Grow Up Awards Gala is a new annual event hosted by Grow Up Conference & Expo, celebrating the best in cultivation, science, and manufacturing, as well as highlighting the efforts to further the cannabis industry. The gala was held at the Greg Frewin Theatre in Niagara Falls.
"Our goal with Grow Up Awards Gala was to shine a light on the great work happening locally and abroad for this industry of ours," said Randy Rowe, president of Grow Up. "Agnes Kwasniewska sets a high bar as Master Grower at Hexo. We ecstatic that her peers from across the industry recognized her talent and achievements."
The Master Grower of the Year is awarded to the "Master Grower leader in her or his operation" and recognizes those whose "dedication to their craft consistently produces top quality crops for the marketplace."
"I am honoured to receive this award," said Kwasniewska, who was in attendance to accept the award. "This is great recognition for the entire cultivation team and HEXO's focus on consistent, high-quality products."
Kwasniewska brings strong academic credentials and a decade of experience in plant science and horticulture to her role as HEXO's Master Grower. A former researcher at Agriculture and Agri-Food Canada, Kwasniewska has worked as an assistant researcher and field monitor at PRISME Consortium and was assistant grower at Flora Plus Inc. prior to coming to HEXO. She holds an MSc in Entomology from McGill University, and has authored specialized research on integrated pest control.
Celebrating growers and suppliers, Grow Up Conference and Expo centres on the education, collaboration and growth in the cannabis industry. The three-day event is held at the Scotiabank Convention Centre in downtown Niagara Falls from September 12 to 14, 2019, featuring over 160 speakers. This full-spectrum B2B cannabis event connects thousands of cannabis companies with a complete view of the industry.