Location / Travel
Scotiabank Convention Centre, 6815 Stanley Avenue, Niagara Falls, Canada L2G 3Y9
Scotiabank Convention Centre
6815 Stanley Avenue, Niagara Falls, Canada L2G 3Y9

Host Hotel
Niagara Falls Marriott on the Falls
6755 Fallsview Boulevard
Niagara Falls ON Canada
L2G 3W7
905-374-1077
Style, substance and stunning views come to life at Niagara Falls Marriott on the Falls. Situated just steps from one of the world's most spectacular natural wonders, our waterfront hotel provides the perfect retreat for spurring family sightseeing and romantic getaways alike. Just minutes from desirable destinations including Scotiabank Convention Centre, Niagara Fallsview Casino Resort and Niagara SkyWheel. Following your explorations, retire to relaxation in our recently redesigned accommodations. With sleek furnishings and oversized windows overlooking the city and Falls, our rooms and suites provide the perfect environment to call it a night. Fuel up at Marriott Café or our on-site StarbucksⓇ each morning, then return for lunch and dinner at Milestones on the Falls.
City view rooms $175.00
Fallsview Rooms $205.00
Comp internet in guestrooms | 2 comp bottles of water per day in guestrooms | $19 self-parking
If you want to add 1 day pre or post event to your reservation you will need to call in-house reservations to inquire on room availability. Reservations can be reached at 1-877-353-2557.

RADISSON HOTEL & SUITES FALLSVIEW, ON
6733 Fallsview Boulevard
Niagara Falls ON Canada
L2G 3W7
905-356-1944
Situated on the Ontario side of Niagara Falls, Radisson Hotel & Suites Fallsview, ON offers a prime location for visiting this impressive natural wonder. We are also just one mile from popular destinations like Journey Behind the Falls and IMAX Theatre Niagara Falls. If you're in the area for an event, you can walk five minutes to the Scotiabank Convention Centre. When you make your reservation, be sure to look for available rooms with a view of Horseshoe Falls.
City view rooms $139.00
Family Suites $179.00
Fallsview Rooms $199
Welcome, delegates of the GrowUP Conference! Radisson Hotel & Suites Fallsview, ON is proud to be a preferred hotel for this event. We are centrally located in the heart of the Fallsview District and directly across the street from Scotiabank Convention Centre, within walking distance of the Fallsview Casino and many attractions and local restaurants.
Group rates start from $139.00 for Standard Cityview rooms, Family Suites from $179.00 and Fallsview rooms from $199.00. Discounted parking is available at $10 per vehicle, per day for one vehicle per room (regular parking charges are $25 per vehicle, per day).
The booking deadline to qualify for the discounted rate is August 6, 2018. Reservations made after this date will be at the hotel's prevailing rates.
Toll free: 1-877-325-5784 or direct at 905-356-1944 or click below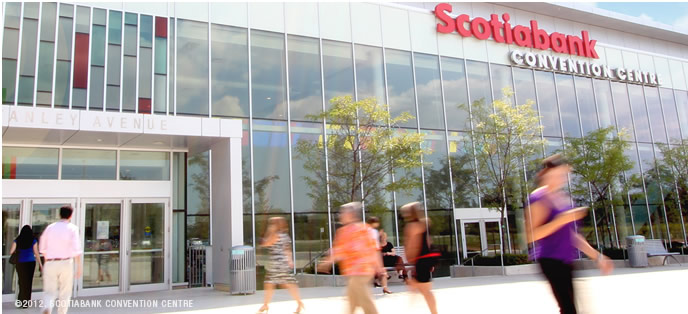 As Niagara's largest conventions and meeting facility, the Scotiabank Convention Centre, in Niagara Falls (SCCN), offers a generous canvas of uniquely designed spaces; strategically located in one of the World's most exciting destinations.
Located a mere 500 metres from the world-famous Canadian Horseshoe Falls, the Centre draws from the breath-taking sight of Nature's power, and the numerous fun and lively entertainment, dining, and retail options found in the Fallsview Tourist District – Niagara Falls' trendiest spot!
You're at the centre of it all… naturally!
Niagara Falls is an international brand name. Covering an area just over 1,800 sq. km., Niagara showcases an impressive array of natural wonders, sights, and attractions that distinguish it as a world-class destination. In addition to all its attractions, Niagara Falls provides clear driving access to 55% of the U.S. and 62% of the Canadian population making the Scotiabank Convention Centre a natural crossroads and meeting place.
$10 Onsite Parking
The Scotiabank Convention Centre, offers nearly 900 parking spaces. Parking is conveniently located next to the facilities and is easily accessed from the intersection of Stanley Avenue and Livingston St (see map to the right).
Guests are able to rely on parking attendants to provide support at stations and entry/exit points during Grow Up Cannabis Conference and Expo.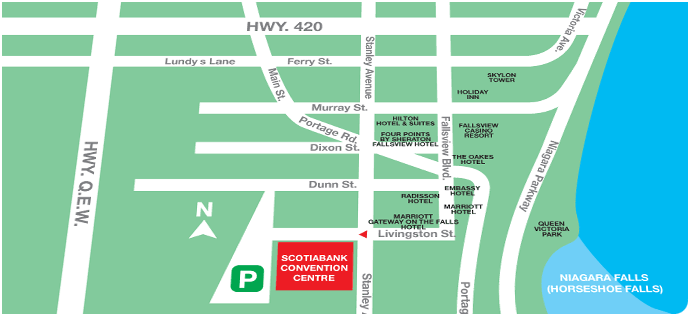 Please Note: Although every precaution has been taken to ensure guests and visitors to the Scotiabank Convention Centre, in Niagara Falls (SCCN) enjoy a pleasant experience, the SCCN assumes no responsibility for fire, theft or damage of any vehicle during their visit. The SCCN is not responsible for the loss or damage of any articles and/or personal property left within vehicles. Parking at the SCCN on a day/evening pass or during special events/activities, is a privilege and it may be revoked for any reason at any given time. Parking spaces at the SCCN is NOT guaranteed; parking is on a first-come first-serve basis.