Location / Travel
Scotiabank Convention Centre, 6815 Stanley Avenue, Niagara Falls, Canada L2G 3Y9
Scotiabank Convention Centre
6815 Stanley Avenue, Niagara Falls, Canada L2G 3Y9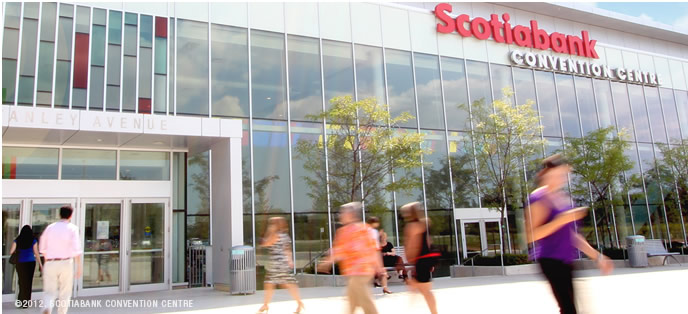 As Niagara's largest conventions and meeting facility, the Scotiabank Convention Centre, in Niagara Falls (SCCN), offers a generous canvas of uniquely designed spaces; strategically located in one of the World's most exciting destinations.
Located a mere 500 metres from the world-famous Canadian Horseshoe Falls, the Centre draws from the breath-taking sight of Nature's power, and the numerous fun and lively entertainment, dining, and retail options found in the Fallsview Tourist District – Niagara Falls' trendiest spot!
You're at the centre of it all… naturally!
Niagara Falls is an international brand name. Covering an area just over 1,800 sq. km., Niagara showcases an impressive array of natural wonders, sights, and attractions that distinguish it as a world-class destination. In addition to all its attractions, Niagara Falls provides clear driving access to 55% of the U.S. and 62% of the Canadian population making the Scotiabank Convention Centre a natural crossroads and meeting place.
$10 Onsite Parking
The Scotiabank Convention Centre, offers nearly 900 parking spaces. Parking is conveniently located next to the facilities and is easily accessed from the intersection of Stanley Avenue and Livingston St (see map to the right).
Guests are able to rely on parking attendants to provide support at stations and entry/exit points during Grow Up Cannabis Conference and Expo.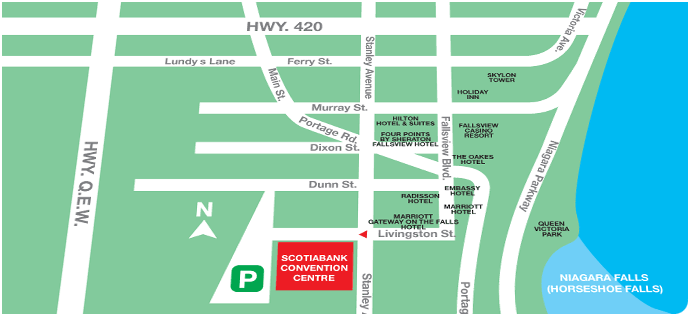 Please Note: Although every precaution has been taken to ensure guests and visitors to the Scotiabank Convention Centre, in Niagara Falls (SCCN) enjoy a pleasant experience, the SCCN assumes no responsibility for fire, theft or damage of any vehicle during their visit. The SCCN is not responsible for the loss or damage of any articles and/or personal property left within vehicles. Parking at the SCCN on a day/evening pass or during special events/activities, is a privilege and it may be revoked for any reason at any given time. Parking spaces at the SCCN is NOT guaranteed; parking is on a first-come first-serve basis.