This post is presented by our media partner Psychedelic News Wire
View the original article here.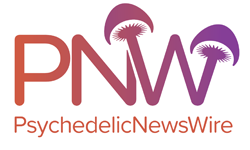 Numerous studies have shown that psychedelics possess a range of therapeutic benefits that may be useful in treating various conditions. For instance, one study found that administering psilocybin reduced anxiety and depression in patients with cancer. This research also intersects with artificial intelligence ("AI"), as companies involved in the space work toward ensuring therapy centers are safe places to provide psychedelic therapy.
The use of artificial intelligence is expected to increase in this field as companies accelerate their research and realize their visions using this technology.
Sam Altman, the creator of ChatGPT, is also the chairman of Journey Colab, a psychedelics startup focused on unlocking the science of psychedelics to develop a new model of addiction care. Journey Colab is one of the many companies advancing psychedelic-assisted therapies. Others on this list include Mind Medicine Inc.,  Numinus Wellness Inc., Compass Pathways PLC (NASDAQ: CMPS) and Atai Life Sciences.
Journey Colab recently partnered with All Points North to carry out advanced psilocybin and MDMA clinical trials and design an administration model. All Points North is a mind-body health business that specializes in trauma therapy, mental health, physical fitness and addiction treatment. The company's CEO, Jeeshan Chowdhury, revealed that the objective of this partnership was to show that rehab facilities were safe places to offer psychedelic-assisted therapy. The company is planning additional experiments and projects, including producing a new book that brings together psychedelic-induced visions using artificial intelligence.
In other news, David Jay Brown, a researcher associated with MAPS, also collaborated with Sara Phinn to publish a field guide for the different characters one encounters while tripping on DMT. DMT (N,N-Dimethyltryptamine) is a short-acting psychedelic that produces effects similar to those of other psychedelics such as psilocybin mushrooms and LSD. The guide's illustrations were compiled using AI tools such as Midjourney.
Multidisciplinary Association for Psychedelic Studies (MAPS) is a nonprofit organization that is focused on better understanding psychedelics and raising awareness of these substances.
It is also expected that as the demand for psychotherapy grows as more treatments using psychedelics such as MDMA and psilocybin are approved, more companies will begin developing complementary digital therapeutics.
This is a relatively new space, so various ethical matters are bound to arise. For instance, some may posit that one-on-one therapy with human counselors may in the future be replaced by conversations with a technological entity.
As technology continues evolving at a rapid pace, it is our duty to continue to have these discussions and address any issues that may impact privacy and/or safety of individuals.
About PsychedelicNewsWire
PsychedelicNewsWire (PNW) is a specialized content distribution company that (1) aggregates and distributes news and information on the latest developments in all aspects and advances of psychedelics and their use, (2) creates PsychedelicNewsBreaks designed to quickly update investors on important industry news, (3) leverages a team of expert editors to enhance press releases for maximum impact, (4) assists companies with the management and optimization of social media across a range of platforms, and (5) delivers unparalleled corporate communication solutions. PNW stays abreast of the latest information and has established a reputation as the go to source for coverage of psychedelics, therapeutics and emerging market opportunities. Our team of seasoned journalists has a proven track record of helping both public and private companies gain traction with a wide audience of investors, consumers, media outlets and the general public by leveraging our expansive dissemination network of more than 5,000 key syndication outlets. PNW is committed to delivering improved visibility and brand recognition to companies operating in the emerging markets of psychedelics.
To receive instant SMS alerts, text "Groovy" to 844-397-5787 (U.S. Mobile Phones Only)
For more information please visit https://www.psychedelicnewswire.com
Please see full terms of use and disclaimers on the PsychedelicNewsWire website applicable to all content provided by PNW, wherever published or re-published: https://www.psychedelicnewswire.com/Disclaimer
Do you have questions or are you interested in working with PNW? Ask our Editor
PsychedelicNewsWire (PNW)
San Francisco, California
www.psychedelicnewswire.com
415.949.5050 Office
Editor@PsychedelicWire.com
PsychedelicNewsWire is part of the InvestorBrandNetwork.
This post was originally published by our media partner here.