This post is presented by our media partner Extraction Magazine
View the original article here.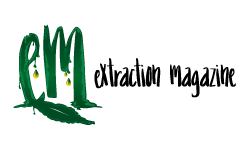 THC remediation is the process of removing THC from a cannabis extract in order for it to be compliant with the law, which deems any cannabis product with more than 0.3 percent THC federally illegal. It's an indispensable step toward producing the multitude of CBD concentrates we see on the market.
THC remediation can be done in numerous ways: reverse-phase chromatography, high-performance liquid chromatography, centrifugal partition chromatography, counter-current chromatography, superfluid chromatography, crystallization, dilution, and THC degradation.
In short, chromatography and THC degradation are the two most common methods of THC remediation. While these methods have proven to be effective, they do have a couple of imperfections worth mentioning.
Chromatography
For one, chromatography does a great job at separating polar compounds like THC and CBD, as the two react differently to the silica. However, nonpolar compounds like certain terpenes and cannabinoids tend to travel through the silica at a very similar speed, making them harder to separate. If that's needed in the first place, of course. In other words, chromatography is great for full-spectrum extracts, but not always for CBD isolates.  [1]
Moreover, all the pre-treatment steps that THC remediation can sometimes require can be a little invasive and damage resins, along with their overall chemical make-up.
THC Degradation
THC degradation, meanwhile, relies on the natural aging processes that cannabis undergoes. This usually involves exposing the flower to light and heat and creating a favorable environment to speed up the degradation process. This causes THC to convert into CBN, which has only around 10 percent of THC's potency. [2]
This method's simplicity is its charm and its downfall at the same time. For starters, CBN's 10 percent psychoactivity in relation to THC's isn't the same as zero percent, which is some CBD consumers' goal.
Moreover, when concentrated, that psychoactivity can basically get concentrated as well and increase due to CBN's potential concentration in the extract. Finally, THC isn't the only cannabinoid that's vulnerable to light, heat, and time, so this method can come at the cost of all-around cannabinoid degradation.
As you can see, making a CBD extract compliant with the federal law is anything but straightforward and comes with several challenges. Hopefully the advancement of the industry makes those challenges more and more easy to overcome. We're already seeing such advancements in the form of proprietary equipment like T-SEP by Precision Extraction.
Image Credits: pxhere / mohamed hassan
References:
[1] Coskun O. Separation techniques: Chromatography. North Clin Istanb. 2016;3(2):156-160. Published 2016 Nov 11. doi:10.14744/nci.2016.32757
[2] Jaidee W, Siridechakorn I, Nessopa S, Wisuitiprot V, Chaiwangrach N, Ingkaninan K, Waranuch N. Kinetics of CBD, Δ9-THC Degradation and Cannabinol Formation in Cannabis Resin at Various Temperature and pH Conditions. Cannabis Cannabinoid Res. 2021 Jun 4. doi: 10.1089/can.2021.0004. Epub ahead of print. PMID: 34096805.
The post Challenges of THC Remediation appeared first on Extraction Magazine.
This post was originally published by our media partner here.