This post is presented by our media partner Psychedelic News Wire
View the original article here.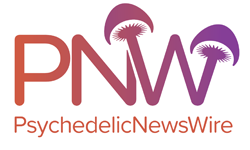 We've all heard about Santa's reindeer flying around the world as Santa drops off presents for kids who have been nice all year. Have you ever thought about how these animals fly though? If you guessed psychedelics, you may be right.
Some historians argue that Father Christmas is a psychedelic mushroom shaman, as shown by his red-and-white suit, which bears resemblance to the psychedelic fly agaric mushroom. This mushroom, scientifically known as Amanita muscaria, is bright red with white flecks. Historical evidence on indigenous psychedelic shamanism in northern Europe and Siberia even suggests that the Christmas we know today is based on pagan psychedelic rituals.
You may be wondering, how much truth is there to these theories?
Well, many have reported that the Amanita mushroom causes lilliputian and gulliverian hallucinations when smoked or ingested. These hallucinations give individuals the illusion of growing or shrinking.
A Dictionary of Hallucinations, a book written by Jan Dirk Blom, quotes St. Macarius, the elder of Alexandria who talks about little strangers in an old text. Ancient peoples in Siberia also spoke of amanita girls and fly-agaric men in relation to lilliputian hallucinations that occurred following fly-agaric intoxication.
Unlike magic mushrooms, which contain psilocybin, Amanita mushrooms contain psychoactive compounds such as bufotenine and muscimol. The mushrooms also contains ibotenic acid, which causes neurotoxicity when ingested in high doses.
Individuals who consume the Amanita mushroom may also experience confusion, agitation, dizziness, distortions of time and space, and sedating feelings as well as visual and auditory perceptual changes. While the mushroom's effects wear off after a day or so, these toxic mushrooms may cause death when ingested in lethal doses.
Given that fly-agaric mushrooms can be found anywhere on the globe and humans have been using them for spiritual purposes for millennia, researchers speculate that they may be the oldest hallucinogen or entheogen known to mankind. These fungi are ingested by reindeer, causing the deer to behave drunkenly, which may make their prancing behavior look like flying, particularly in the eyes of individuals who have also ingested the mushrooms.
Other evidence comes from the Sámi people of Lapland who focused on both Amanita mushrooms and reindeer in their culture. During the Winter Solstice, their shamans used reindeer to travel when they needed to perform healing rituals using psychedelic mushrooms.
In addition to these religious leaders dressing in characteristic red and white, they often used chimneys to enter houses because most doors were snowed in during the winter.
What isn't in doubt is that psychedelic substances have been used for a long time from time immemorial, and startups such as Delic Holdings Corp. (CSE: DELC) (OTCQB: DELCF) will be building on this rich tradition of use as they develop formulations that can gain FDA approval for use in the medical system.
NOTE TO INVESTORS: The latest news and updates relating to Delic Holdings Corp. (CSE: DELC) (OTCQB: DELCF) are available in the company's newsroom at https://ibn.fm/DELCF
About PsychedelicNewsWire
PsychedelicNewsWire (PNW) is a specialized content distribution company that (1) aggregates and distributes news and information on the latest developments in all aspects and advances of psychedelics and their use, (2) creates PsychedelicNewsBreaks designed to quickly update investors on important industry news, (3) leverages a team of expert editors to enhance press releases for maximum impact, (4) assists companies with the management and optimization of social media across a range of platforms, and (5) delivers unparalleled corporate communication solutions. PNW stays abreast of the latest information and has established a reputation as the go to source for coverage of psychedelics, therapeutics and emerging market opportunities. Our team of seasoned journalists has a proven track record of helping both public and private companies gain traction with a wide audience of investors, consumers, media outlets and the general public by leveraging our expansive dissemination network of more than 5,000 key syndication outlets. PNW is committed to delivering improved visibility and brand recognition to companies operating in the emerging markets of psychedelics.
To receive instant SMS alerts, text "Groovy" to 844-397-5787 (U.S. Mobile Phones Only)
For more information please visit https://www.psychedelicnewswire.com
Please see full terms of use and disclaimers on the PsychedelicNewsWire website applicable to all content provided by PNW, wherever published or re-published: https://www.psychedelicnewswire.com/Disclaimer
Do you have questions or are you interested in working with PNW? Ask our Editor
PsychedelicNewsWire (PNW)
San Francisco, California
www.psychedelicnewswire.com
415.949.5050 Office
Editor@PsychedelicWire.com
PsychedelicNewsWire is part of the InvestorBrandNetwork.
The post Christmas As We Know It May Be Based On Psychedelic Traditions appeared first on PsychedelicNewsWire (PNW).
This post was originally published by our media partner here.