This post is presented by our media partner Psychedelic News Wire
View the original article here.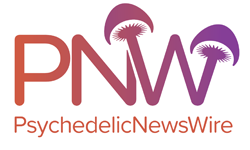 DiPT (N,N-diisopropyltryptamine) is a psychedelic drug of the tryptamine family that induces auditory hallucinations. This means that unlike other hallucinogens which cause visual hallucinations by affecting an individual's visual sense, DiPT causes hallucinations where an individual can hear sounds.
DiPT was first created and experimented with by Alexander Shulgin in 1980. It is chemically related to DMT, which is another hallucinogen of the tryptamine family.
How does the drug work?
Despite its creation decades ago, not much is known about how DiPT works.
Zeus Tipado, a psychedelic neuroscience researcher, states that researchers know that the drug affects the same region in the brain as other psychedelic drugs, including the auditory cortex and the thalamus. The thalamus helps an individual process their whole reality while the auditory cortex is a part of the temporal lobe, which  processes auditory information.
While no clinical trials on DiPT have been conducted, there are a lot of anecdotal reports from individuals who reported their experiences with the hallucinogen.
Normally, when an individual talks, we can hear what they are trying to say. However, when someone is on DiPT, words that another party may say may be switched around or omitted from the conversation, creating a new context of what was being said.
The hallucinogen is also known to produce auditory hallucinations even when no sound from the natural environment can be heard.
Does DiPT possess any therapeutic value?
Unlike other psychedelics that may induce good trips, this drug is far less likely to do so. In addition to experiencing auditory hallucinations, users of DiPT may notice sensory and visual effects such as augmented depth perception and color enhancement. When ingested in higher doses, the drug may cause tinnitus or ear pressure, which is usually painful.
However, researchers speculate that the drug may be used to treat tinnitus in the future. This is based on the fact that tinnitus is associated with hyperactivity in the auditory cortex.
Is DiPT safe to use?
Given the lack of research on the drug, it is difficult to say what the long-term health effects of consuming DiPT may be. Thus far, no long-term negative effects on health have been reported by individuals who have tried this hallucinogen in low or moderate doses. Anecdotal reports also suggest that DiPT may not be addictive. Nevertheless, researchers caution against its long-term use and advise that DiPT be treated with caution.
Several companies, including Mind Medicine Inc. (NASDAQ: MNMD) (NEO: MMED) (DE: MMQ), are conducting research aimed at gaining a better understanding of various psychedelic compounds. As this information filters through, the medical potential of those substances may then start being exploited.
About PsychedelicNewsWire
PsychedelicNewsWire (PNW) is a specialized content distribution company that (1) aggregates and distributes news and information on the latest developments in all aspects and advances of psychedelics and their use, (2) creates PsychedelicNewsBreaks designed to quickly update investors on important industry news, (3) leverages a team of expert editors to enhance press releases for maximum impact, (4) assists companies with the management and optimization of social media across a range of platforms, and (5) delivers unparalleled corporate communication solutions. PNW stays abreast of the latest information and has established a reputation as the go to source for coverage of psychedelics, therapeutics and emerging market opportunities. Our team of seasoned journalists has a proven track record of helping both public and private companies gain traction with a wide audience of investors, consumers, media outlets and the general public by leveraging our expansive dissemination network of more than 5,000 key syndication outlets. PNW is committed to delivering improved visibility and brand recognition to companies operating in the emerging markets of psychedelics.
To receive instant SMS alerts, text "Groovy" to 844-397-5787 (U.S. Mobile Phones Only)
For more information please visit https://www.PsychedelicNewsWire.com
Please see full terms of use and disclaimers on the PsychedelicNewsWire website applicable to all content provided by PNW, wherever published or re-published: https://www.PsychedelicNewsWire.com/Disclaimer
Do you have questions or are you interested in working with PNW? Ask our Editor
PsychedelicNewsWire (PNW)
San Francisco, California
www.PsychedelicNewsWire.com
415.949.5050 Office
Editor@PsychedelicWire.com
PsychedelicNewsWire is part of the InvestorBrandNetwork.
The post DiPT: The Psychedelic That Causes Auditory Hallucinations appeared first on PsychedelicNewsWire (PNW).
This post was originally published by our media partner here.