This post is presented by our media partner Psychedelic News Wire
View the original article here.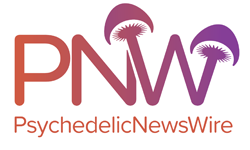 Psychedelics have been seeing a resurgence in popularity over the past couple of years, thanks to their purported medical abilities. Several studies have also found that psychedelics such as LCD and ketamine can be used to treat substance abuse and mental health disorders, including depression, anxiety and even post-traumatic stress disorder (PTSD).
If you would like to learn more about psychedelics, there is plenty of material available for you to dig into. Here are some books to start you off if scientific reports aren't your thing.
"LSD, My Problem Child: Reflections on Sacred Drugs, Science and Mysticism"
This book was penned by Dr. Albert Hoffman, long considered the father of LSD. It is a first-person account of how Hoffman first invented, synthesized and consumed LSD.
"LSD, My Problem Child" offers a detailed and immersive account of the discovery, synthesis and history of psychedelic use.
"DMT: The Spirit Molecule"
This publication was partly responsible for the resurgence of interest in psychedelics research when it was first published in 2001. Written by Rick Strassman, it describes psychedelic research and experiments in great detail and covers some of the obstacles early psychedelics researchers faced. The book also contains accounts of how psychedelics changed the lives of 400 people who used them extensively.
"How to Change Your Mind" (on the new science of psychedelics)
Penned by Michael Polland in 2018, "How to Change Your Mind" is the ultimate introduction to psychedelics for complete newbies. Experienced psychonauts will also enjoy it as it breaks down hard scientific concepts into easily understandable bits and incorporates personal stories from the author.
Polland experimented with psychedelics before writing the book, and he masterfully included his personal experiences with psychedelics and how they affected his mind. It is a must-read for anyone looking to learn more about psychedelics.
India is known as the land of spirituality and philosophy partly due to the influence ancient religions have had in shaping the country. When psychedelics first hit the scene in the 1960s, they birthed a major fascination in Eastern spirituality that lasts to this day.
But long before Dr. Albert Hoffman first synthesized LSD, Herman Hessie wrote an incredible and profound tale of enlightenment that saw the protagonist journey through samsara to nirvana and achieve spiritual awakening. Siddhartha is the ultimate read for those who intend to begin a spiritual journey with psychedelics.
Jean-Paul Sartre's "Nausea" is a philosophical and psychological dive into the mind of Antoine Roquentin, a French writer who is horrified by his own existence. Written in diary form, the book describes the pervasive and overwhelming revulsion that Roquentin feels as he begins to understand the meaninglessness of existence.
"Nausea" may have nothing to do with psychedelics, but the self-introspection it triggers can have profound consequences.
In addition to these books, you can read press releases put out from time to time by companies sech as Silo Pharma Inc. (OTCQB: SILO) in order to keep abreast of the latest developments in the psychedelics industry.
NOTE TO INVESTORS: The latest news and updates relating to Silo Pharma Inc. (OTCQB: SILO) are available in the company's newsroom at https://ibn.fm/SILO
About PsychedelicNewsWire
PsychedelicNewsWire (PNW) is a specialized content distribution company that (1) aggregates and distributes news and information on the latest developments in all aspects and advances of psychedelics and their use, (2) creates PsychedelicNewsBreaks designed to quickly update investors on important industry news, (3) leverages a team of expert editors to enhance press releases for maximum impact, (4) assists companies with the management and optimization of social media across a range of platforms, and (5) delivers unparalleled corporate communication solutions. PNW stays abreast of the latest information and has established a reputation as the go to source for coverage of psychedelics, therapeutics and emerging market opportunities. Our team of seasoned journalists has a proven track record of helping both public and private companies gain traction with a wide audience of investors, consumers, media outlets and the general public by leveraging our expansive dissemination network of more than 5,000 key syndication outlets. PNW is committed to delivering improved visibility and brand recognition to companies operating in the emerging markets of psychedelics.
To receive instant SMS alerts, text "Groovy" to 844-397-5787 (U.S. Mobile Phones Only)
For more information please visit https://www.PsychedelicNewsWire.com
Please see full terms of use and disclaimers on the PsychedelicNewsWire website applicable to all content provided by PNW, wherever published or re-published: https://www.PsychedelicNewsWire.com/Disclaimer
Do you have questions or are you interested in working with PNW? Ask our Editor
PsychedelicNewsWire (PNW)
San Francisco, California
www.PsychedelicNewsWire.com
415.949.5050 Office
Editor@PsychedelicWire.com
PsychedelicNewsWire is part of the InvestorBrandNetwork.
The post Five Books on Psychedelics You May Enjoy Reading appeared first on PsychedelicNewsWire (PNW).
This post was originally published by our media partner here.