This post is presented by our media partner Psychedelic News Wire
View the original article here.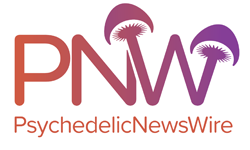 The current wave of surging psychedelic research and mainstream popularity has been dubbed the psychedelic renaissance. Decades after they were prohibited, hallucinogenic drugs are revealing astonishing mental-health benefits in clinical trials.
Research has shown that even a single dose of psychedelics can have long-term benefits against mental-health issues such as depression and eating disorders when paired with psychotherapy.
With people becoming more cognizant of the side effects of traditional psychiatric medications, many individuals are looking at psychedelic-assisted therapy as a safer and more effective alternative. The industry is still in its infancy, however, and the direction it will take if the federal government and states pass legislation allowing psychedelic use is still unknown.
According to Gwella Mushrooms CEO Peter Reitano, the psychedelics market will be dominated by the wellness segment rather than pharmaceutical applications. His point of view is quite unique as a majority of companies in the nascent psychedelic space are looking to develop psychedelic therapies for pharmaceutical applications.
Based in Canada, Reitano's psychedelics company is hedging its bets on the wellness market becoming the most dominant sector in the psychedelics industry. Reitano believes that as the industry grows, the most significant application for psychedelic drugs will be as supplements meant to improve your well-being rather than medications meant to alleviate medical conditions.
At the moment, Reitano said that there is a thin line in regard to what regulators allow, what psychedelics can do, and what the public is willing to accept when it comes to treating people with psychedelics. His company is looking to corner the wellness segment with low-dose psychedelics taken as supplements.
Gwella's Mojo Microdose Gummies boost wellness by improving oxygen levels, boosting the immune system, promoting calm and clarity, and increasing energy. Reitano described microdosing as consuming a "low, subperceptual dose" of a hallucinogenic drug to get the benefits without having to go through the psychedelic experience.
He explained that Gwella is developing ways to help people improve their lives through a variety of facets, be it cognitive enhancement, wellness or creativity. As such, the psychedelics company has developed products that are additive to one's life and enhance their wellness.
Furthermore, the company has been able to avoid the restrictions placed on the pharmaceutical markets, and its products can be purchased online in Canada, Europe and the United States. Reitano said that Gwella's psychedelic micro dose products have been in the market for a year and have generated more than $1 million in revenue.
Gwella can focus on the wellness front while others, such as atai Life Sciences N.V. (NASDAQ: ATAI) explore the pharmaceutical angle. All efforts will ultimately converge with regards to advancing the psychedelics industry.
About PsychedelicNewsWire
PsychedelicNewsWire (PNW) is a specialized content distribution company that (1) aggregates and distributes news and information on the latest developments in all aspects and advances of psychedelics and their use, (2) creates PsychedelicNewsBreaks designed to quickly update investors on important industry news, (3) leverages a team of expert editors to enhance press releases for maximum impact, (4) assists companies with the management and optimization of social media across a range of platforms, and (5) delivers unparalleled corporate communication solutions. PNW stays abreast of the latest information and has established a reputation as the go to source for coverage of psychedelics, therapeutics and emerging market opportunities. Our team of seasoned journalists has a proven track record of helping both public and private companies gain traction with a wide audience of investors, consumers, media outlets and the general public by leveraging our expansive dissemination network of more than 5,000 key syndication outlets. PNW is committed to delivering improved visibility and brand recognition to companies operating in the emerging markets of psychedelics.
To receive instant SMS alerts, text "Groovy" to 844-397-5787 (U.S. Mobile Phones Only)
For more information please visit https://www.PsychedelicNewsWire.com
Please see full terms of use and disclaimers on the PsychedelicNewsWire website applicable to all content provided by PNW, wherever published or re-published: https://www.PsychedelicNewsWire.com/Disclaimer
Do you have questions or are you interested in working with PNW? Ask our Editor
PsychedelicNewsWire (PNW)
San Francisco, California
www.PsychedelicNewsWire.com
415.949.5050 Office
Editor@PsychedelicWire.com
PsychedelicNewsWire is part of the InvestorBrandNetwork.
This post was originally published by our media partner here.