This post is presented by our media partner Extraction Magazine
View the original article here.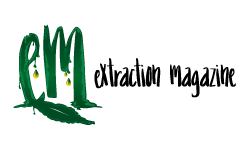 The supplement world is abuzz about turmeric and for good reason. Used as spice or in the form of extract, this golden root can have many health benefits. Multiple studies have shown that turmeric is a powerful anti-inflammatory, an antioxidant [1,2, 3] , and a treatment for the following diseases:
Arthritis
Diabetes
Infection
Oral health
Cancer
Digestive disorders
Liver disease
Alzheimer's disease
Skin conditions
As more and more research is being done, the list of conditions and disorders turmeric can treat just keeps growing. The active ingredient in turmeric, curcumin, is responsible for many of the benefits of this root. Because of turmeric's distinctive (and some would say loud) flavor profile, it is not suitable for every meal you may prepare, so putting it into a tincture can be a great way to ingest turmeric every day.
So how can you extract this powerful supplement yourself at home?
Making your own curcumin extraction from home is both simple and economic. It is often paired with piperine, which is the active ingredient of black pepper, to potentiate turmeric's effects. [3] Here is what you'll need:
A high-powered blender or food processor
Cloth for filtering (any fabric will work for this–an old pillowcase is perfectly fine)
Large cup or jar with lid
95% alcohol (or glycerin for an alcohol-free preparation)
Making the Tincture
The first step in this process is to take fresh turmeric root and chop it into small chunks. Then blend the chunks in a high-powered blender or food processor. Add some of the alcohol or glycerin to the pulp and continue to blend until the mixture appears to not change consistency. You want it to be as finely blended as possible for the next step.
Then strain the mixture with the cloth, wringing out all the liquid from the pulp. After doing this, pour the extract into a dark tincture bottle or a jar. Make sure to keep the mixture out of the light at all times because sunlight can break down the contained beneficial compounds.
This extract lasts long time and can be taken 2-3 times per day. Just a few drops into fruit juice or water is all you need for a single dose. It is as simple as that!
References:
[1] Barclay, LR, et al. On the antioxidant mechanism of curcumin: classical methods are needed to determine antioxidant mechanism and activity. Organic Letters. (2000) 7;2(18):2841-3. doi: 10.1021/ol000173t. [Journal Impact Factor=6.005] [Times Cited= 36]
[2[ Dong, S., et al. Curcumin Enhances Neurogenesis and Cognition in Aged Rats: Implications for Transcriptional Interactions Related to Growth and Synaptic Plasticity. Plos One. 2012; 7(2).doi: 10.1371/journal.pone.0031211 [Journal Impact Factor= 3.752]
[Times cited= 46]
[3] https://joybileefarm.com/natural-turmeric-supplement/
[4] https://willamettetransplant.com/turmeric-black-pepper-tincture-diy-recipe/
Image: https://www.bigstockphoto.com/it/image-416659879/stock-photo-turmeric-powder%2C-also-known-as-turmeric%2C-turmeric%2C-sun-root%2C-turmeric%2C-saffron-and-yellow-ginger
This post was originally published by our media partner here.