This post is presented by our media partner Psychedelic News Wire
View the original article here.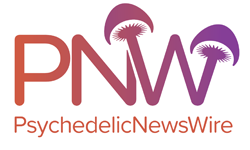 The Sonoran desert toad is among the largest toads in continental North America. Measuring an average of seven inches, this species of toad is known to secrete an alkaloid on its skin that causes psychedelic-like effects when ingested.
Over the past few years, more and more people have begun taking part in a trend that involves licking the back of toads to achieve a psychedelic high. However, the alkaloid that produces these effects in humans is actually a toxin secreted by the toad to ward off predators.
On top of that, not all toads secrete this toxin; licking secretions from some toad species may cause adverse health effects and in some cases even death. Consequently, the National Park Service (NPS) recently warned visitors against licking what some call "psychedelic toads."
Also referred to as the Colorado River toad, the Sonoran desert toad secretes psychedelics 5-MeO-DMT and DMT-derivative bufotenin. Although these compounds can be fatal when ingested by some animals, they produce psychedelic-like effects in humans.
Still, the NPS cautions, this doesn't mean that handling toads is safe, stating that doing so could easily make you sick if the poison gets into your eyes. In some cases, some people choose to extract these alkaloids and vaporize them rather than licking them off the toads.
There is also another important factor at play here: the Sonoran desert toad is a threatened species in states where it is indigenous, such as California. Perhaps due to their psychedelic appeal, Sonoran river toad numbers have dropped dangerously low in recent years.
Early this year, wildlife experts implored the public to stop milking Colorado river toads for their alkaloids as they were in danger of completely dying out. In addition, University of Arizona Laboratory research associate and Tuscon Herpetology Society president Robert Antony Villa said that the toads are "susceptible to exploitation."
With psychedelics currently experiencing a renaissance in both mainstream popularity and scientific research, plenty of people are looking to use them recreationally and medicinally. Studies have shown that these hallucinogenic drugs can have profound mental health benefits when paired with psychotherapy.
Millions of dollars are now being poured into psychedelic drugs, and several pharmaceutical companies such as Seelos Therapeutics Inc. (NASDAQ: SEEL) are looking to develop the next big psychedelic drug. In the meantime, however, psychedelics remain illegal at the federal level and in most states, leading to some people using questionable means to acquire them, such as licking toads.
While we wait for federal and state legislation to catch up with science, the National Park Service has one message for psychedelic enthusiasts: let the toads be.
About PsychedelicNewsWire
PsychedelicNewsWire (PNW) is a specialized content distribution company that (1) aggregates and distributes news and information on the latest developments in all aspects and advances of psychedelics and their use, (2) creates PsychedelicNewsBreaks designed to quickly update investors on important industry news, (3) leverages a team of expert editors to enhance press releases for maximum impact, (4) assists companies with the management and optimization of social media across a range of platforms, and (5) delivers unparalleled corporate communication solutions. PNW stays abreast of the latest information and has established a reputation as the go to source for coverage of psychedelics, therapeutics and emerging market opportunities. Our team of seasoned journalists has a proven track record of helping both public and private companies gain traction with a wide audience of investors, consumers, media outlets and the general public by leveraging our expansive dissemination network of more than 5,000 key syndication outlets. PNW is committed to delivering improved visibility and brand recognition to companies operating in the emerging markets of psychedelics.
To receive instant SMS alerts, text "Groovy" to 844-397-5787 (U.S. Mobile Phones Only)
For more information please visit https://www.PsychedelicNewsWire.com
Please see full terms of use and disclaimers on the PsychedelicNewsWire website applicable to all content provided by PNW, wherever published or re-published: https://www.PsychedelicNewsWire.com/Disclaimer
Do you have questions or are you interested in working with PNW? Ask our Editor
PsychedelicNewsWire (PNW)
San Francisco, California
www.PsychedelicNewsWire.com
415.949.5050 Office
Editor@PsychedelicWire.com
PsychedelicNewsWire is part of the InvestorBrandNetwork.
This post was originally published by our media partner here.