This post is presented by our media partner Oaksterdam University
View the original article here.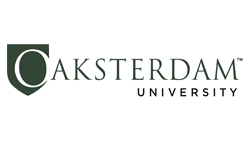 For #12DaysOfGratitude, we will spotlight what we are grateful for — our OU Alumni!
Read all about what our graduates are doing below, and share your own alumni story here!
Day #1: Erick Cervantes
To kick things off, meet Erick Cervantes. Erick graduated from OU with a certificate in Horticulture in 2018. He was so inspired by his OU instructors that he went on to pursue a Bachelor's Degree in Plant Science at Fresno State.
Erick made a name for himself at Fresno State's Jordan College of Agriculture and Technology when he embarked on an independent study project to renovate a vertical hydroponic unit at the campus nursery, study 120 basil plants he grew from seed, and donate his harvest to a food kitchen in Turlock, Calif., near his home.
His project was featured in the campus magazine.
Erick spent his teenage years growing up in the farm town of Patterson near Modesto, Calif. His love of agriculture began even earlier on his grandparents' farm in Unión de Tula, Mexico.
At Oaksterdam, he learned to apply his passion and knowledge to cannabis.
Erick will graduate with honors this December and is already being recruited into the cannabis industry. We know he will find a great job.
Congratulations, Erick! We are grateful for y??!
➡️ Read more about Erick's time at Fresno State

Day #2: Rainbow Hill & Kamilah Chavis
Meet Oaksterdam Alumni Rainbow Hill and Kamilah Chavis. They are founders of Shinnecock Hemp Growers, a Native American Women owned and operated company in Sovereign Territory in Southhampton, N.Y.
The partners established their business in 2019, but wanted to learn more. They enrolled in Oaksterdam University's Business of Cannabis and Horticulture certification courses.
They graduated in Spring, 2021, with the winning Horticulture Capstone Project.
"Because we did the work at Oaksterdam we were able to truly see the potential we have. We plan to take Shinnecock Hemp as far as we can," Rainbow says.
SHG sources, grows, and extracts hand-crafted cannabinoid-based products and herbal remedies.
OU judges liked many of the creative sustainability aspects of their capstone project, including fertilization using sugar kelp from nearby Peconic Bay; pest management incorporating garlic, comfrey, and nasturtium; and security using natural barriers formed by red raspberry briars.
"I share with everyone our learning experience with Oaksterdam and I encourage people to take these courses at this university if they plan to be in this industry," she says. "Oaksterdam courses are worth every penny spent and I hope to take more!"
We are so proud of ??r alumni!
➡️ Visit @shinnecock_hemp Growers and check out their healing oils, like Potion #5 and Dream Chaser.
Day #3: Steve Hobart
Meet OU Business Alumni Steve Hobart. The year he graduated from Oaksterdam in 2015, he co-founded Custom 420 Supply, a cannabis packaging company in Madison, Conn.
"All of the courses I took were excellent. I enjoyed Dale Sky's portion of the education. I have seen very few people speak of cannabis with such burning passion. Those moments will forever stick with me. I am very passionate about this plant and have dedicated my life to the plant and industry since 2006. The unique networking experience OU provides helped in the launch's success when I applied for a dispensary in the State of Connecticut (scored and approved but was not chosen). I ran my cultivation and caregiving medical business in the State of Maine, working as a cultivator for one of the largest cultivation facilities in the Northeastern United States, and entered into the niche space of cannabis packaging."
Congratulations, Steve! We are grateful for y??r success in business and life!
➡️ www.custom420.com | @custom420supply

Day #4: Jeff Hickey
Meet OU Alumni-turned-Faculty member Jeff Hickey. After graduating from Oaksterdam's Horticulture program in 2016, Jeff brought hope and help during COVID by writing about his 2020 Isolation Grow on the OU blog. If you enjoyed reading his adventures growing cannabis outdoors in Northern California, you'll be glad to know he's back with his newest blog "Growing with Less Water — Jeff Hickey's 2021 Grow Recap."
He shares how he dealt with plant pressures, pests, and pathogens. This year, his biggest challenge was low rainfall. He provided consistent drip irrigation and relied on the plant's ability to fend for itself. Jeff ended up with his best yields yet — six cultivars, 17 pounds, and up to 24.8% potency!
Jeff credits #Oaksterdam for his cannabis freedom.
"OU gave me the tools and the skills to change the way I grow for the better, and the knowledge to build our own personal dispensary in our home for my sick wife, family, and a few special friends in need. None of this would have happened without Oaksterdam."
Thank you, Jeff! We are grateful you are part of the Oaksterdam Family!

Day #5: Erika Osueke
Erika was unsatisfied with her work in the corporate world after having her second child. When she and her military spouse were transferred from Florida to California, Erika's husband encouraged her to pursue her passion for cannabis as a career.
When she saw a Viceland documentary about "America's first cannabis college," she knew she had to enroll at Oaksterdam University as a first step.
"I started doing classes and used them as stepping stones to get into the industry, to show companies that I'm really serious," Erika says.
She landed a job at Kiva Confections, where she now serves as quality and compliance manager, monitoring regulations and educating stakeholders to ensure all Kiva brands are safe and compliant.
Erika grew up in Texas as an avid athlete, playing volleyball, basketball and tennis. She was prescribed opioids for sports injuries, which led to anxiety, depression and other horrible side effects. Erika discovered cannabis as a better alternative to relieve pain, and with her nursing background, believes in the plant as a safe alternative to opioids and alcohol.
She says cannabis is more culturally accepted in the Puerto Rican and Mexican communities that represent her heritage, and she hopes to continue to break down stigmas through her work in the industry.
Cheers to your continued success, Erika!

Day #6: Anthony Alegrete
Meet Anthony Alegrete, an OU Business Alumni who graduated in 2021. Anthony is the COO of @40TonsBrand. During Anthony's time at OU, he networked, making lifelong business connections. He credits OU for providing a platform that gave him a leg up in the industry and credibility. Anthony's end-of-the-semester presentation was based on his business, and working with a team, he was able to reassess his business model.
"I am the chief operations officer of a cannabis company, but I was still new to the industry. As a businessman, I had experience in business but not any formal knowledge in the cannabis business and what works, especially in a growing industry in a grey area. I needed help, so I came to the experts — America's first cannabis college, OU!"
We see y??, Anthony. Keep up the great work!
➡️ Support 40tonsbrand.co and learn more about their upcoming career fair near you.

Day #7: Oscar Burrola
Meet Oscar Burrola, founder of Lifted Spirit Collective in Contra Costa County, Calif. Oscar graduated from OU and went on to be an instructor in our Horticulture Program, as well as a successful canna-preneur. He started Lifted Spirit Collective in 2016 to service the needs of medical patients, and the microbusiness has since expanded to include cannabis cultivation, solventless extraction and wholesale distribution.
Oscar has hosted field trips for Oaksterdam students as a way to give back. He says he benefitted from similar field trips when he attended OU, and hopes his tours help supplement what students have learned in class, and answer questions about how to enter the industry.
Burrola remains a staunch Oaksterdam supporter, to the point that three of his four employees are OU graduates.
"They all have a good basic understanding of plant knowledge which is nice," he says. "You don't have to explain very much to students who have gone through Oaksterdam."
➡️ Read more about Oscar and our OU Friday Field Trips in our recent blog.

Day #8: Evelyn LaChappelle
Meet Evelyn LaChapelle, an OU #Business Alumni who took our course Raising Funds for Cannabis Businesses, and graduated in 2021. Evelyn is an experienced events coordinator and community liaison, who is now utilizing her professional position within the legal cannabis industry to advocate for restorative justice.
Evelyn is a program associate at Last Prisoner Project, dedicated to redressing the past and harms caused by the war on cannabis.
She is the community engagement director at Rose Mary Jane, serves on the leadership team of Cannabis for Black Lives, and is the host of "Canna be Honest" Powered by Vertosa..
In 2013, Evelyn was convicted on three charges related to her minor role in a marijuana distribution operation. She was sentenced to 87 months in prison. On Feb. 1, 2019, she was released from federal custody and since then, she has been dedicated to offering support to people who have recently been incarcerated..
Evelyn is building her own brand "Eighty Seven." Her mission is to create a platform for the formerly incarcerated to find their path into this industry. Eighty Seven represents the 87 months she was sentenced to prison. It is a story of defeat and victory and she plans to push this brand and industry forward by normalizing cannabis consumption with luxury cannabis essentials..
"What I learned in Raising Funds for Cannabis Businesses proves to be valuable information as I create a brand in this industry that offers representation for black women while also amplifying the voice of the cannabis incarcerated. Social equity in this industry is dismal and I wholeheartedly believe it is because we lack access to cannabis education, business incubation, and access to capital. Oaksterdam is doing its part to educate and encourage the industry to get involved."

Day #9: Jiracheep Kruayatidee
Meet Jiracheep Kruayatidee, an OU Business Alum who graduated in 2019 and now serves as the Chief Executive Officer of the Hemp Advocacy Group, Canneticz.
Jiracheep's journey to Oaksterdam began in 2018 when he was studying abroad from Thailand for his master's degree in Boston. As a college student, he was exposed to cannabis culture and became curious about the plant, which led him to America's first cannabis college, Oaksterdam University. After earning credentials from OU, his passion was ignited, and when his home country in Southeast Asia legalized cannabis, he was ready!
Today, he is the proud founder of Canneticz Asia, the first Cannabis and Hemp Seed Distributor in Thailand.
"Oaksterdam has a long history of educating Cannabis entrepreneurs and anyone interested in the cannabis business at the international level. As a result, I decided to enroll at Oaksterdam University, beginning my hemp journey and launching my cannabis business journey."
We are so proud of y??!
Day #10: Tucky Blunt
Meet Alphonso Tucky Blunt, Jr. (@TuckyBlunt), an OU Business Alum who graduated in 2007 and came back for round two in 2008. Tucky took every course that OU had to offer, and to this day, stays in touch with his Oaksterdam family. Tucky is the CEO & Founder of Blunts and Moore in Oakland, Calif.
Tucky had been a part of the cannabis industry since 1996, so when he heard about OU opening up in his hometown, he knew he had to enroll. He always wanted to own a dispensary, so the obvious next step was learning about the business, which led him to the experts at Oaksterdam.
We love to see y??r success, Tucky. Never give up on the dream!
"OU helped sharpen my business skills and gave me the tools to succeed in the cannabis industry. I made life-long connections that helped my business and self-growth. I remember being in class, and an instructor said that one day, reformations would be given to people with cannabis offenses because legalization was coming. Who would have thought that would be me? Today, I am proud to be the first ex-felon for cannabis sales to fully own a retail store under Oakland's social equity program!"

Day #11: Florent Buffière
Meet Florent Buffiére, an OU International #Business Alum who graduated in 2014. Florent is a Board Member of French NORML and the Founder & CEO of Hemp Tact — Cannabis Council & Services. Florent decided to invest in an education at Oaksterdam because he wanted to gain confidence when approaching the subject of cannabis in France and beyond.
Since graduating from OU, Florent has traveled the world working in the cannabis industry. He contributed to the development of the French NORML chapter and consulted for several European legal cannabis companies in Switzerland, Spain, Belgium, and France. He also set up a successful hemp and CBD store in the city of Bordeaux. Florent currently lives in Peru, where he participates in several projects with the Shipibo indigenous people.
Recently, he worked with NORML to implement a tool to measure the compatibility of the political class with the legalization of cannabis for France's 2022 presidential election, at score.norml.fr.
Thank y?? for all that you do for the world, Florent and @NormlFrance. ??

Day #12: David Paleschuck
Meet David Paleschuck, a branding and marketing expert, best-selling author, and Oaksterdam grad. After a long career in branding, marketing, and product development for companies like American Express, MasterCard, Pepsi and Microsoft, David turned his talents to the world of cannabis.
He has spent more than a decade in the cannabis industry, working as VP of Licensing & Brand Partnerships at DOPE Magazine, and creating a number of well-known cannabis brands in multiple states, including Evergreen Herbal.
He's perhaps best known for his writing and cannabis thought leadership. He is author of Branding Bud: The Commercialization of Cannabis — the first book on cannabis branding. Released in April, 2021, it rose to best-seller status in Amazon's "Branding & Logo Design" and "Green Business" categories. He's also written for High Times, Celebstoner, Cannabis Dispensary Magazine, The Cannabis Industry Journal, and more.
David graduated from OU's business program in 2014.
"Oaksterdam University was my first stop when I entered the industry 11 years ago," he says. "From learning the basics to meeting the industry's future leaders, it was worth every minute. I highly recommend OU as your entry point into the industry."
We hope you're inspired by our talented alumni. If you'd like to join the Oaksterdam family, check out our courses here. If you're an OU graduate, share your own success story here!
This post was originally published by our media partner here.