This post is presented by our media partner Psychedelic News Wire
View the original article here.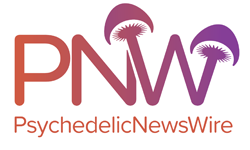 New research has found that psilocybin may help individuals with alcohol use disorders decrease their drinking. Figures show that roughly 20 million individuals in America struggle with substance use disorders. Currently, only a trio of drugs have been approved by the FDA for the treatment of this disorder. However, side effects such as nausea and vomiting are impeding adherence to those approved treatments.
Earlier studies have shown that psilocybin possesses the potential to treat various addiction disorders, including opioid use disorder, alcohol use disorder and smoking. Psilocybin works by reshaping the neural networks in the brain associated with habits related to addiction.
This particular study, which was led by Dr. Michael Bogenschutz of the NYU Langone Center for Psychedelic Medicine, is said to be the first randomized controlled psilocybin trial for alcohol use disorder. Researchers from the University of New Mexico and the University of Alabama at Birmingham were also involved in the trial, which started recruiting participants in 2014.
Prior to the trial, every individual included in the trial averaged about seven alcoholic drinks at a time. The researchers' objective was to evaluate whether psilocybin, when administered with therapy, could reduce alcohol cravings and help individuals with alcohol use disorder stay sober.
The trial was carried out over an eight-month period and involved 93 women and men between 25 and 65 years of age. Every participant was required to participate in 12 psychotherapy sessions, with researchers administering either a duo of psilocybin doses or antihistamine pills to each participants.
Before participants ingested their first pills, every individual underwent four psychotherapy sessions. Once the first dose was administered and no adverse reactions were observed, participants underwent four additional therapy sessions, which involved more therapy and higher doses of the drugs. During their sessions, participants were encouraged to lie on a couch, wearing eye masks and listening to classical music through headphones.
The researchers found that after the trial period, more than 80% of individuals who had received the psychedelic treatment significantly reduced their levels of drinking. Individuals in the control group who received antihistamine pills as a placebo also recorded improvements, with researchers finding that about 50% of them also reduced their drinking. Additionally, the researchers found that a good number of the participants who received psilocybin stopped drinking completely, in comparison to a quarter of those who ingested the antihistamines.
The trial's findings were reported in "JAMA Psychiatry." This study is part of a global movement investigating whether psychedelic-assisted therapy may be an effective alternative treatment for mental health conditions and addiction.
That global interest in the medicinal properties of different psychedelics has birthed biopharm entities such as Cybin Inc. (NYSE American: CYBN) (NEO: CYBN) that are making inroads in the quest for novel remedies to mental health challenges, including major depressive disorder and post-traumatic stress disorder.
NOTE TO INVESTORS: The latest news and updates relating to Cybin Inc. (NEO: CYBN) (NYSE American: CYBN) are available in the company's newsroom at https://ibn.fm/CYBN
About PsychedelicNewsWire
PsychedelicNewsWire (PNW) is a specialized content distribution company that (1) aggregates and distributes news and information on the latest developments in all aspects and advances of psychedelics and their use, (2) creates PsychedelicNewsBreaks designed to quickly update investors on important industry news, (3) leverages a team of expert editors to enhance press releases for maximum impact, (4) assists companies with the management and optimization of social media across a range of platforms, and (5) delivers unparalleled corporate communication solutions. PNW stays abreast of the latest information and has established a reputation as the go to source for coverage of psychedelics, therapeutics and emerging market opportunities. Our team of seasoned journalists has a proven track record of helping both public and private companies gain traction with a wide audience of investors, consumers, media outlets and the general public by leveraging our expansive dissemination network of more than 5,000 key syndication outlets. PNW is committed to delivering improved visibility and brand recognition to companies operating in the emerging markets of psychedelics.
To receive instant SMS alerts, text "Groovy" to 844-397-5787 (U.S. Mobile Phones Only)
For more information please visit https://www.PsychedelicNewsWire.com
Please see full terms of use and disclaimers on the PsychedelicNewsWire website applicable to all content provided by PNW, wherever published or re-published: https://www.PsychedelicNewsWire.com/Disclaimer
Do you have questions or are you interested in working with PNW? Ask our Editor
PsychedelicNewsWire (PNW)
San Francisco, California
www.PsychedelicNewsWire.com
415.949.5050 Office
Editor@PsychedelicWire.com
PsychedelicNewsWire is part of the InvestorBrandNetwork.
This post was originally published by our media partner here.