This post is presented by our media partner Extraction Magazine
View the original article here.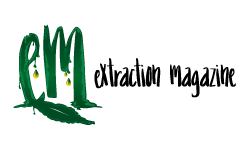 Myrcene is a monoterpene found in at least 200 plant species, including mangoes, hops, lemongrass, and cannabis. It's known for its pleasant aroma and swath of potential health benefits. In recent years, research into the effects of myrcene has opened new possibilities.
What is Myrcene?
Myrcene, or β-Myrcene, is a monoterpene, which is a type of hydrocarbon compound. It occurs naturally in plants and gives off an earthy, herbal aroma. Some cannabis and hemp varieties are particularly rich in myrcene giving to these chemovars a distinct smell.
Myrcene can also be found in diverse consumer products. It's commonly used in cosmetics, perfumes, and soaps. Most industrial myrcene is synthesized from β-pinene, but research suggests that in the future microbial synthesis may be easier. [1]
Potential Health Benefits of Myrcene
Myrcene has been the subject of many studies, with researchers finding a range of potential health benefits. Here are some potential beneficial effects that myrcene may give:
Sedative effect
Myrcene has been observed to have a sedative effect. One study found that "myrcene presented sedative as well as motor relaxant effects" in mice. [2] In humans, it's thought that myrcene contributes to the sluggish "couch-lock" effect associated with some cannabis cultivars. [3]
Anti-Inflammatory
Research suggests that myrcene may have anti-inflammatory properties. One study found that mice treated with a solution of myrcene experienced significantly reduced inflammation. [4] The same study also found an anti-catabolic, or muscle-strengthening effect.
Antioxidant Properties
Antioxidants slow aging by protecting against cell damage caused by free radicals. Researchers have demonstrated that high doses of myrcene encourage antioxidant activity in rat livers. [5]
Analgesic
Myrcene has demonstrated promising analgesic effects in animal studies, suggesting it could be an effective alternative for pain relief. In one study, mice treated with myrcene experienced significant pain relief and did not develop a tolerance despite repeated uses. [6]
Is Myrcene Safe?
Myrcene is considered safe to consume in small doses. In 2018, the Food and Drug Administration (FDA) determined that myrcene, along with five other compounds, "do not pose a risk to public health under the conditions of their intended use."
However, the FDA still decided to ban synthetic myrcene food additives due to evidence showing that extremely high doses of myrcene were linked to cancer in animals. During one study, rats and mice were given daily doses of myrcene five orders of magnitude more potent than the typical food additive dose. [7] The results showed increased adenomas and carcinomas in the males.
According to FDA researchers, these results are due to potency. "The FDA is clear that these results are dose-dependent and is only revoking the listing of these six synthetic flavorings as a matter of law. The FDA has concluded that these substances are otherwise safe."
Because myrcene is so safe, its natural form is still allowed as a food additive.
Conclusion
Myrcene is a naturally occurring compound that is recently being tested by researchers. Many believe that the terpene has numerous health benefits, including anti-inflammatory and antioxidant effects. However, the most compelling research was conducted using animals. More research is needed to determine if the same effects reliably occur in humans.
References:
Eun-Mi Kim, Jin-Hee Eom, et al.

Journal of Agricultural and Food Chemistry

2015

63

(18), 4606-4612. DOI: 10.1021/acs.jafc.5b01334

Gurgel do Vale, T., et al. "Central Effects of Citral, Myrcene and Limonene, Constituents of Essential Oil Chemotypes from Lippia Alba (Mill.) N.E. Brown."

Phytomedicine

, vol. 9, no. 8, 2002, pp. 709-714, https://doi.org/10.1078/094471102321621304.

Russo, Ethan, and Marcu, Jahan. "Cannabis Pharmacology: The Usual Suspects and a Few Promising Leads."

Advances in Pharmacology

, vol. 80, 2017, pp. 67-134, https://doi.org/10.1016/bs.apha.2017.03.004. Accessed 27 Apr. 2023.

Rufino, Ana Teresa et al. "Evaluation of the anti-inflammatory, anti-catabolic and pro-anabolic effects of E-caryophyllene, myrcene and limonene in a cell model of osteoarthritis."

European journal of pharmacology

vol. 750 (2015): 141-50. doi:10.1016/j.ejphar.2015.01.018

Ciftci, Osman, et al. "Antioxidative Effects of Curcumin, β-Myrcene and 1,8-Cineole against 2,3,7,8-Tetrachlorodibenzo-P-Dioxin-Induced Oxidative Stress in Rats Liver."

Toxicology and Industrial Health

, 2011, https://doi.org/10.1177/0748233710388452.

Lorenzetti, Berenice, et al. "Myrcene Mimics the Peripheral Analgesic Activity of Lemongrass Tea."

Journal of Ethnopharmacology

, vol. 34, no. 1, 1991, pp. 43-48, https://doi.org/10.1016/0378-8741(91)90187-I.

Surendran, Shelini, et al. "Myrcene—What Are the Potential Health Benefits of This Flavouring and Aroma Agent?"

Frontiers in Nutrition

, vol. 8, 2021, https://doi.org/10.3389/fnut.2021.699666.
This post was originally published by our media partner here.