This post is presented by our media partner Extraction Magazine
View the original article here.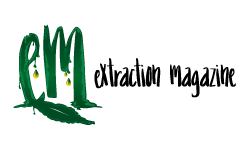 Through steam distillation is possible to separates volatile and non-volatile compounds from a plant matrix. This kind of distillation can be used when the boiling point of the extracted substance is higher than that of water. Moreover this method generally avoid the degradation of thermolabile products contained in the starting material.
In the steam distillation process, water is poured into a flask connected to a condenser: while non-volatile compounds stay in the boiling flask, volatiles are carried through another recipient by the vapor forming a distinct phase after the condensation. [2]
The distillation process gives us essential oils and herbal distillates which are acqueous co-products also known as hydrosols, hydrolates or essential waters. While essential oils will float to the top of the distillate, what stays behind is the watery distillate. These are less concentrated than essential oils and can be more suitable for some topical uses without need of further dilution in a carrier oil or creme: generally there is 1% of essential oil in the herbal distillate and these can be used by pregnant women and children too and they can be .
Both essential oils and herbal distillates are largely used in medical, food and beverages, cosmetic and parfumery industries.
Depending on the extracted plant the hydrosol will have different beneficial effects.
Among the most common hydrosols on the market there are rose, which hazel, orange flower water, rosemary, lavender, sage and so on.
Rose water and lavander can be used as a toner face, witch hazel is an antibacterial commonly used to treat acne and eczema [3], orange flower water is commonly used as perfume while rosemary and sage are often used in hair care products among other uses. Generally herbal distillates degrade faster than essential oils and have to be kept refrigerated. Hydrosols can flavor beverages and food offering all the benefits from the hydro-soluble parts of the plant. Whether you want to use an aromatic water or an essential oil, it is always good practice to test them before on a small body part in order to avoid unwanted side effects such as hypersensibilization to the active compounds of plants.
References:
[2] El Kharraf S, et al. Simultaneous Hydrodistillation-Steam Distillation of Rosmarinus officinalis, Lavandula angustifolia and Citrus aurantium from Morocco, Major Terpenes: Impact on Biological Activities. Molecules. (2021);26(18):5452. Published 2021 Sep 7. doi:10.3390/molecules26185452 [Times cited=1] [Journal impact factor=4.01]
[3] Thring TS, et al. Antioxidant and potential anti-inflammatory activity of extracts and formulations of white tea, rose, and witch hazel on primary human dermal fibroblast cells. J Inflamm (Lond). (2011);8(1):27. doi:10.1186/1476-9255-8-27 [Times cited=8] [Journal impact factor=6.532]
Image: https://www.pexels.com/photo/selective-focus-photo-of-bottle-with-cork-lid-932577/
The post What are Herbal Distillates? appeared first on Extraction Magazine.
This post was originally published by our media partner here.