GROW UP ALBERTA • MAY 26-28, 2024
CANADA'S #1 CANNABIS EVENT
Bringing Growers, Retailers and Suppliers together.
BUY TICKETS
EXHIBIT/SPONSOR
Grow Up Alberta
Edmonton Convention Centre
May 26 – 28, 2024
Learn.
With over 100 world-class speakers, our informative panels will bring you up-to-speed with what is happened in the cannabis cultivation and extraction industry, nationally and abroad. Our sessions are dedicated to the hottest topics, latest trends and the future of cannabis.
Connect.
Making connections in this industry is key to your success. Grow Up continues to be the leader as the place to make new connections that are vital to your business. Network with LPs, head growers, extractors, retail, budtenders, purchasing agents, distributors, suppliers, manufacturers and more. 
Grow.
Our in-depth Masterclass Technical workshops series will elevate your growing. Our sessions are designed to go in-depth to cannabis cultivation and extraction.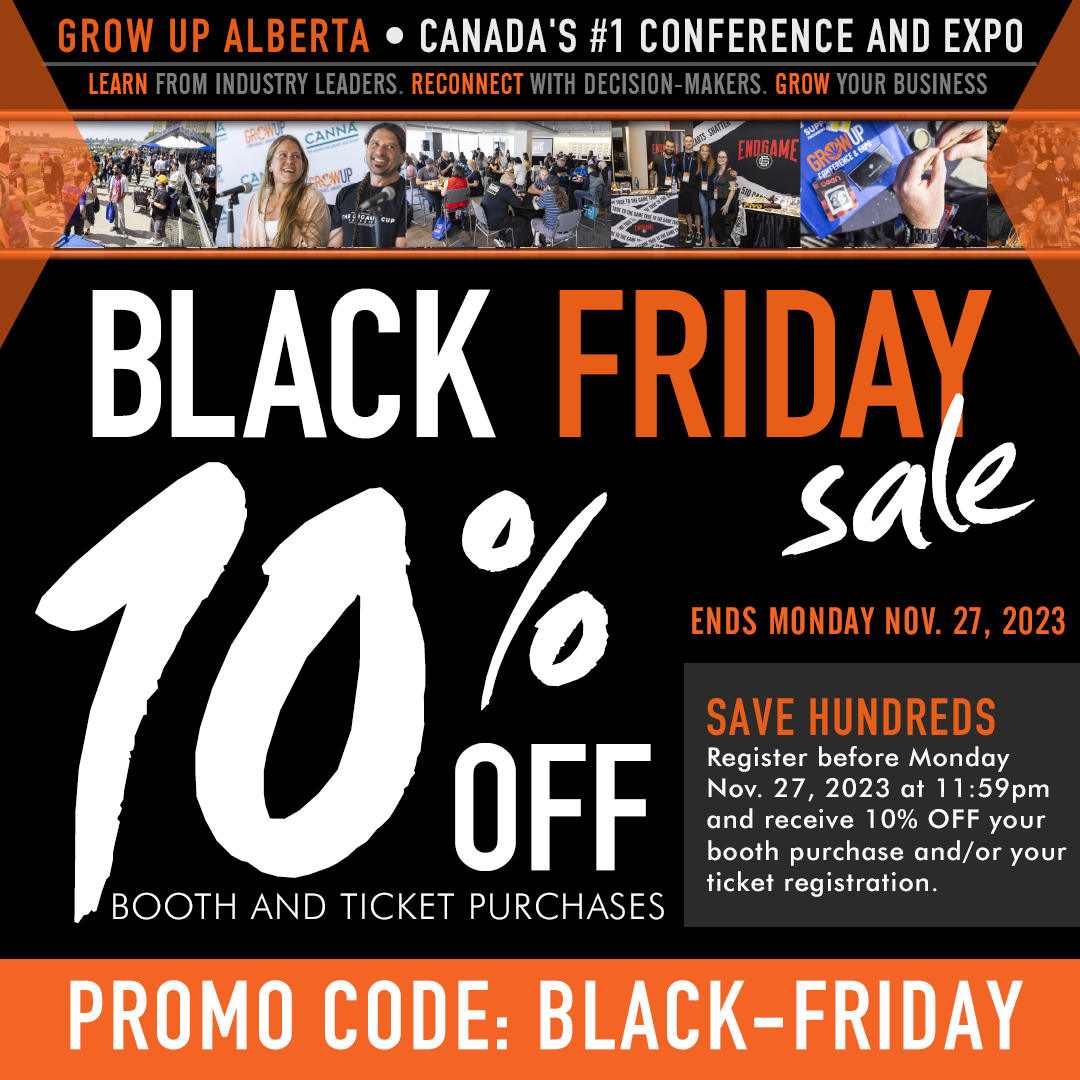 Black Friday Special for Grow Up Alberta – Save 10%!
Don't miss this exclusive Black Friday sale for Grow Up Alberta, where you can supercharge your participation and savings! From now until Monday, November 27th, 2023, unlock incredible discounts with promo code "BLACK-FRIDAY" for both booth purchases and ticket registrations.
Exhibitors:
Secure your booth at Grow Up Alberta and showcase your brand to a diverse and engaged audience. Use promo code "BLACK-FRIDAY" during registration to SAVE HUNDREDS on your booth purchase. 
Attendees:
This is your chance to access high-level sessions, network with industry leaders, and stay at the forefront of the cannabis industry. Join us at Grow Up Alberta for the latest in cannabis cultivation and retail insights. Simply apply promo code "BLACK-FRIDAY" when registering, and you'll receive an additional 10% discount off of our Super Early-bird pricing.
Don't wait! This limited-time offer expires on Monday, November 27th, 2023. 
Grow Up Conference is a privately owned Canadian company since 2017 and is a true B2B cannabis event focusing on cultivation, cannabis brands and retail, extraction and psychedelics. You will be surrounded by industry professionals with a lot of opportunites to make new connections.