Learn.
With over 120 world-class speakers, our informative panels will bring you up-to-speed with what is happened in the cannabis cultivation industry, nationally and abroad. Our sessions are dedicated to the hottest topics, latest trends and the future of cannabis.
Network.
Network with LPs, head growers, extractors, purchasing agents, distributors, suppliers, manufacturers and more. The
VIP Industry Conference
includes access to all keynotes, panels and sessions, exhibition area, exhibition networking café, Meet the Exhibitors Networking Party and VIP Networking Party by the Falls
Grow.
Learn from the professionals. Grow at Home Workshop was created for the recreational user that wants to learn how to grow at home, legally, safety and responsibly.
Breakfast Events
---
Selling Fast
Investor's Breakfast
Friday September 13th, 2019
8:30AM – 9:45AM
Cannabis businesses are like any other start-up enterprise, in that they are often operationally-successful but could use a little "seed money." This can't-miss executive breakfast is a chance for some targeted networking with prospective investors and possible equity partners. These conversations over coffee could be the most important you ever have.
$95
Leaders in Cannabis
Saturday, September 14th, 2019
8:30am – 9:45am
This networking breakfast allows female entrepreneurs to share their experiences, challenges and successes with other women in the cannabis business. There are inspirational stories to be heard, and relationships to forge.
$95
VIP Industry Conference and Expo
---
3 days
Thursday September 12 – Saturday September 14, 2019
With over 120 world-class speakers, our informative panels will bring you up-to-speed with what is happened in the cannabis cultivation industry, nationally and abroad. Our sessions are dedicated to the hottest topics, latest trends and the future of cannabis.The pass includes access to keynotes, panels and sessions as well as the industry expo/conference Friday & SaturdayAlso includes access to the following exclusive VIP events:

Thursday: Meet the exhibitor's networking party
Friday: VIP networking party by the falls.DOES NOT include Award Show, ticketed breakfasts, lunches or grow-at-home workshop.
Grow at Home Workshop
---
Hands-on Workshop
Friday, September 12
Learn how to grow high quality cannabis at home.
This one-day hands-on workshop focuses on the recreational and medicinal user that would like to learn how to grow at home properly, legally and safely. You will learn from the industry leaders in cannabis. This extensive workshop covers everything you will need to know, from seeds to germinating, lighting and storing.

DOES NOT include Industry Conference or networking parties

Topics include: Legalization, Regulation, Security, Site selection, Soil, Nutrients, Air Quality, Irrigation, Ventilation, Seeds/Clones, Germination, Lighting, Vegetative and Flowering stages, Pest Control, Harvesting, Drying, Curing and StoringIncludes access to Grow at Home workshops, educational sessions and demonstarions on Friday and Saturday in the expo hall.
EXPERIENCE THE GROWING POWER IN NIAGARA
Grow Up Conference and Expo is focused on the education, collaboration and growth of the cannabis growing industry. Meet licensed producers, suppliers, equipment manufacturers, investors, lawyers, government officials and growing enthusiasts – all in one magnificent location.
based on a 10′ x 10′ booth
10′ x 10′ Booth
(2) Two-day Exhibitor Passes
(1) Two-day Conference Pass
Pipe and Drape back and side walls
Standard table and 2 chairs
Company listing on the Grow Up Conference website
Company listing in the official show guide.
All booths are reserved on a first-come first-served basis. Booth preferences will be assigned in order from date purchased. Please specify top 3 booths at time of purchase. Within 48 hours of your order, we will email you a confirmation of your booth. If your preferred booth is unavailable at the time of assignment, you will be notified. Floor plan and booth locations are subject to change.
Booths inside the coloured area are reserved for sponsors.
Click here to find out how to become a sponsor and get a premium booth location.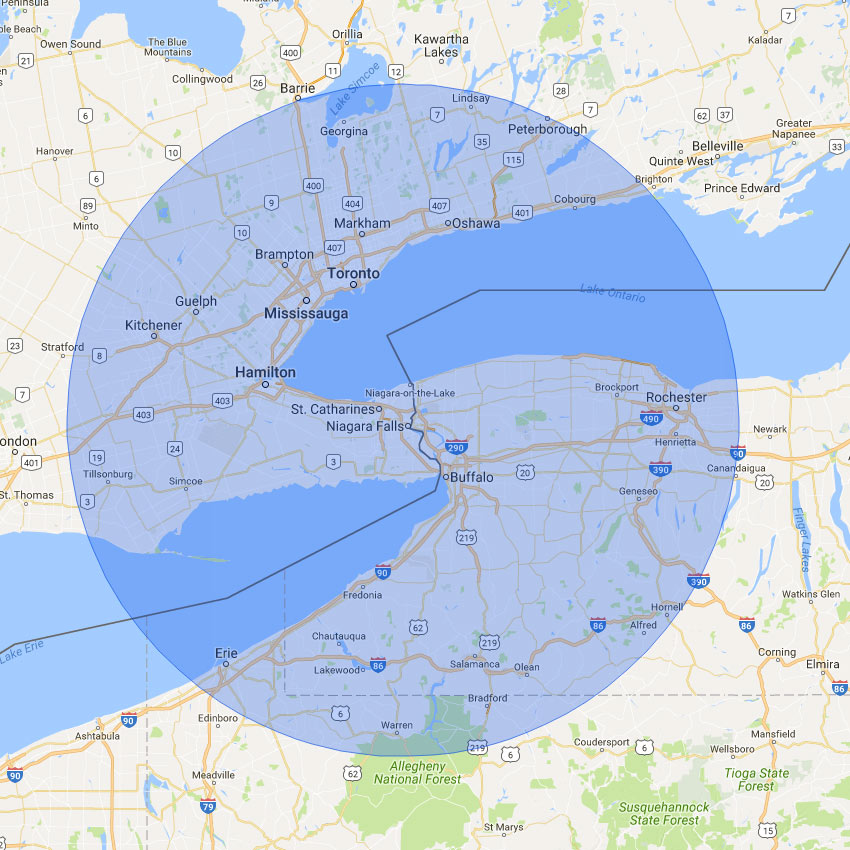 Niagara Falls, Canada
Niagara Falls is an international brand name. Covering an area just over 1,800 sq. km., Niagara showcases an impressive array of natural wonders, sights, and attractions that distinguish it as a world-class destination with over 12M visitors in 2014. In addition to all its attractions, Niagara Falls provides clear driving access to 55% of the U.S. and 62% of the Canadian population making the Scotiabank Convention Centre a natural crossroads and meeting place. The Niagara region has the reputation as the greenhouse capital of Canada. With it's climate and ideal growing conditions, it's no wonder why so many current and future Licensed Producers look to Niagara as a growing hot spot.
11.6M population within a 150 km radius
1.55M population within a 30 minute drive
Home to Largest licensed growing facility in the world
$107 Billion in annual trade between the Niagara / U.S. border
The Niagara Region is a Premier growing location
Niagara is major source of electricity for Ontario
Neighbouring New York state legalized medical marijuana in 2014
Grow Up Cannabis Conference & Expo Partners
Partnerships and Sponsorships are a fantastic way to stand out at Grow Up Cannabis Conference and Expo.
Delegates are looking for a way to connect with you and your brand. Sponsoring dinners, networking breaks, cocktail hours, parking etc. is a great way to gain recognition for your brand. We have numerous sponsorship opportunities and investment levels to choose from.
Sponsorship Inquiries
For more information or to request a sponsorship package, please contact our Sponsorship Manager directly.
Stay Up-to-date with Grow Up