Record-Breaking Voting
A huge thank you to all who participated in the awards voting this year. We received an incredible 13,000+ votes, shattering all previous records. This amazing turnout is a testament to the vibrant community that makes up the Canadian cannabis industry. Congratulations to our finalists! We encourage you to be part of the event and get the recognition you deserve.

New Format, New Pricing
In an effort to make this occasion even more special, we've updated the format of our event. Instead of the previous dinner format at the Crystal Gardens, we're switching to a theatre-style awards celebration in the Lecture Hall at the Victoria Conference Centre, 720 Douglas St. Victoria BC. This allows us to lower the ticket price to just $60 per person and include it in the price of a VIP pass.
Grow Up Awards Ceremony 2023 Tickets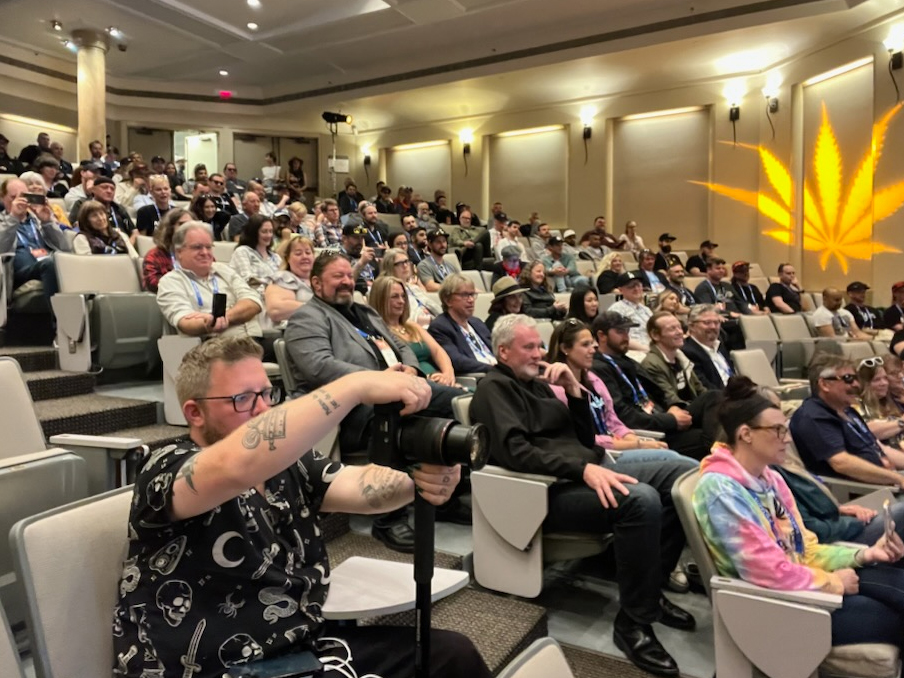 Sunday,October 1, 2023
Lecture Theatre, Victoria Conference Centre, Victoria BC
5:30 PM Cocktail Reception
6:00 PM
AWARD PRESENTATIONS
GROWER OF THE YEAR
LIFETIME ACHIEVEMENT AWARD: TED SMITH
CANNABIS PIONEER AWARD: WANDA JAMES
HALL OF FAME INDUCTEE: KEVIN JODREY
LEGENDS OF CANNABIS: TOMMY CHONG
8:00 PM – POST AWARDS PARTY
The Sticky Wicket: Award ticket holders, All-Access pass, VIP pass, speakers, sponsors and exhibitors welcome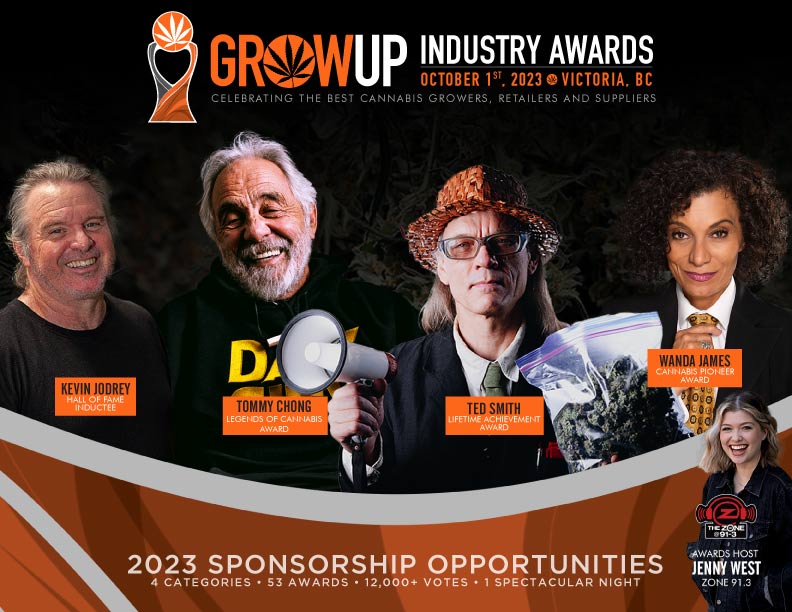 Get Your Company in Front of the Best in the Industry
Custom Sponsorships available
2023 Awards and Categories
Registered users can make up to 3 nominations per category. Once registered, your nominations will be stored in the database allowing you to come back and complete at your leisure (until Sunday, August 6th, 2023. Please provide as much information as possible, each submission will be reviewed by an awards committee. Self nominations are accepted.
1. General Category 
(10 total awards)
Grower of the Year
Micro/Craft Producer of the Year
Standard Producer of the Year
Micro Processor of the Year
Standard Processor of the Year
Extraction Specialist of the Year
Online Cannabis News Source
Influencer of the Year
30 and Under
Cannabis Lawyer/Firm of the Year
2. Equipment/Products 
(8 total awards)
Environmental Impact Award
Labeling Equipment
Lighting System
Best Growing Media
HVACD System and Controls
Pre-roll Equipment
Best Pre-Roll Cones

Extraction Equipment
Testing/Laboratory Equipment
3. Company/Supplier 
(10 total awards)
Best Packaging, Labeling & Supplies
Best Nutrients and Bio stimulants Product
Cannabis Consultant of the Year
Best Extraction Services Provider
Best Lab/Testing Facility
Integrated Pest Management Company of the Year
Cannabis Wholesale / Distribution
Best Plant Propagation/Breeding
Best Cannabis Cultivation Supplier/Distributor
Cannabis Publication of the Year
4. Brands & Retail 
(21 total awards)
Budtender Association of the Year
Indigenous-owned Retailer of the Year
National Retail Chain of the Year
Independent Retailer of the Year
Retail/Budtender Training Agency of the Year
POS/CRM Software of the Year
Indigenous-owned Brand of the Year
Brand/Product Sales Agency of the Year
Retail Distributer of the Year
Direct Delivery to Retail Company of the Year
Brand of the Year
Accessory of the Year
Best Oil
Best Pre-Rolls
Best Beverage
Best Edible
Best Flower
Best Variety Pack
Best Topical of the Year
Product of the Year
Best App
2022 Grow Up Awards Photos