Record-Breaking Voting
A huge thank you to all who participated in the awards voting this year. We received an incredible 13,000+ votes, shattering all previous records. This amazing turnout is a testament to the vibrant community that makes up the Canadian cannabis industry. Congratulations to our finalists! We encourage you to be part of the event and get the recognition you deserve.

New Format, New Pricing
In an effort to make this occasion even more special, we've updated the format of our event. Instead of the previous dinner format at the Crystal Gardens, we're switching to a theatre-style awards celebration in the Lecture Hall at the Victoria Conference Centre, 720 Douglas St. Victoria BC. This allows us to lower the ticket price to just $60 per person and include it in the price of a VIP pass. Reserved Row up-front  seating available in rows of 6, 7 and 8
Grow Up Awards Ceremony 2023 Tickets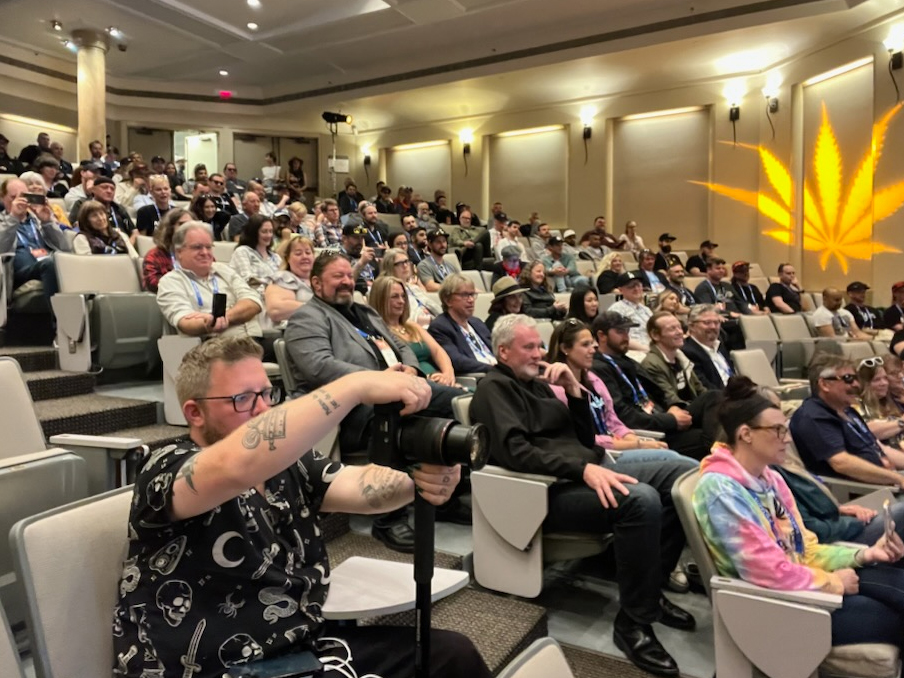 Sunday,October 1, 2023
Lecture Theatre, Victoria Conference Centre, Victoria BC
5:30 PM Cocktail Reception
6:00 PM
AWARD PRESENTATIONS
GROWER OF THE YEAR
LIFETIME ACHIEVEMENT AWARD: TED SMITH
CANNABIS PIONEER AWARD: WANDA JAMES
HALL OF FAME INDUCTEE: KEVIN JODREY
LEGENDS OF CANNABIS: TOMMY CHONG
8:00 PM – POST AWARDS PARTY
The Sticky Wicket: Award ticket holders, All-Access pass, VIP pass, speakers, sponsors and exhibitors welcome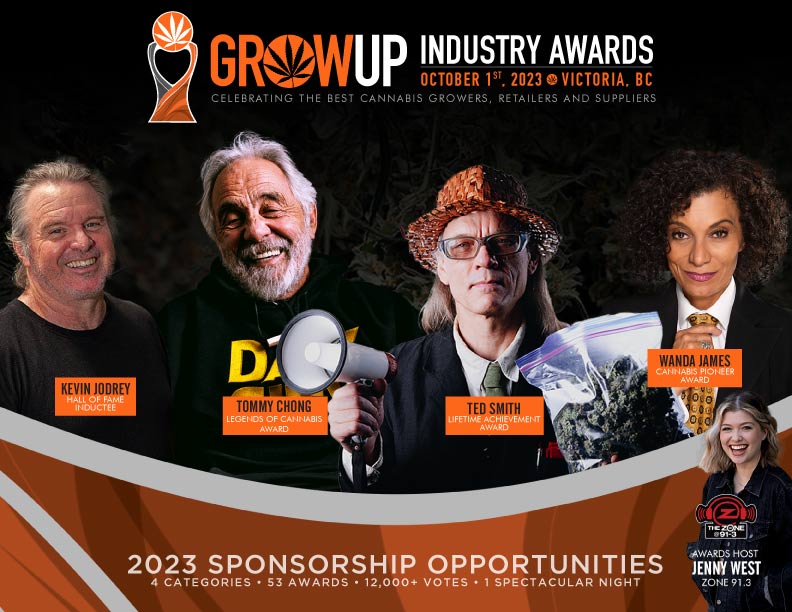 Get Your Company in Front of the Best in the Industry
Custom Sponsorships available
2023 Finalists
Congratulations to the 2023 final nominees.
1. General Category
30 and under
Amin Hasham
Antuanette Gomez
Blunts and Beans
Brett Wells
Christopher Ash
Christopher Johnson
Emily Riehl
Nicole Venditti
Tom Rothmeier
Trevor Labrie
Cannabis Lawyer/Firm of the Year
Bennett Jones LLP
Cassels Brock & Blackwell LLP
Dentons
Gowling WLG
Kirk Tousaw
Robert Laurie
Trina Fraser
Extraction Specialist of the Year
Allanah Davis
Andrew Freedman
Caitlin McIlhone
Charlie Gibson
Creed Taylor
Dan Heaton
Jay Squires
Next Leaf Solutions
Nicholas Vorauer
Shack Attack
Grower of the Year
Adrian Everett
Albert Eppinga
Alexandre Gauthier
Chantal Dorval
Chris Crosbie
Chris Kaneb
David Falkins
dustan mclean
Genevieve Newton
Jake Ward
Jim Strain
Julien Leclaire
Kyra Horvath
Nathaniel Garneau
Rebecca Knight
Sarah Dawson
Tyson wall
Influencer of the Year
Afro Cannada Budsistas Inc.
Amber Craig
Blunts & Beans
Cy Williams
Dave from DopeNDisabledProductions
Emily Riehl
Faded Living
HighKu Productions
Jesse Paul
John Berfelo
Marcus Bubbleman Richardson
Matt Sparrow
Tairance Rutter – ANC INC
The Noobie and The Doobie
Trevor Labrie
Trim Queen – Sabrina Mohamed
Urban Remo
Micro Processor of the Year
Gorilla garden supplies
Lady Jane Labs
Origami
Sweet Grass Cannabis
Micro/Craft Producer of the Year
All Nations
BC Cannabis Inc.
Betralif
Cake & Caviar
Dunn Cannabis
Gorilla Garden Supplies
Into the Weeds
JOI Botanicals
Krft
Northside Grow Co
Smoker Farms
Stewart Farms
Vertical 7
Victoria Cannabis Company
Wayne Patrick Consumer Products
Online Cannabis News Source
ADCANN
Cannabis News Wire
Cannabis Prospect Magazine
Cannabis Wiki
End of the Trails Cannabis News
Grow Opportunity
High Canada Magazine
High! USA
StratCann
Standard Processor of the Year
ANC Solutions
Betralif
Freedom Cannabis
Tricanna Industries Inc.
Weed Me
Standard Producer of the Year
Aqualitas / Reef Organic
Cronos Group
Distinkt
Freedom Cannabis
Good Buds
Greenjoy
Northside Growco
Origine Nature
Stewart Farms
2. Equipment/Products
Best Growing Media
BlueSky Organics Corp.
CANNA
Gaia Green Living Soil
Growdan
Medicoir Coco
Mills Nutrients
Mo'Koko
Pure Coco
Best Pre-Roll Cones
Bongchie India Private Limited
EVOLV Organic Hemp Pre-Rolled Cones
Futurola USA
Konehedz
RAW Cone
RōL Papers
ZIG-ZAG
Environmental Impact Award
BOVEDA
CannaGreen Packaging
Cryo Cure
Gaia Green Organics
Grow Solar LLC
Humble Bees Botanical
Pure Coco
Seaborn Organics
Thumbs Up
Extraction Equipment
BioXtra Labs Inc.
ClearSolv Solvents Inc.
Evolved Extraction Solutions
extraktLAB | United Science
Luna Technologies
Precision Extraction Solutions
Solve4 Solutions
Thar Process
Vitalis Extraction
Wacky Willy
Labeling Equipment
CannaGreen Packaging
Dope Automation
ND Supplies
Paxiom / Canapa
Roland DGA Corp
Lighting System
Aelius LED
California LightWorks
Eco Grow Tech
Fluence BY OSRAM
Fohse
Fusion Grow
Grow Solar LLC
Heliospectra
Highpar Lights
Phantom Photobio LED
Philips Horticulture LED
Pre-roll Equipment
Dope Automation
Futurola USA
GreenBroz Inc.
PreRoll-er
Puffs by SUP one hitter machine!
RAW Thumper Cone Filler / Pre-Rolled Cone Filling Machine
STM Canna
Testing/Laboratory Equipment
Agilent
CARO Analytical Services
Ekidna Sensing
Hoskin Scientific
M&L Testing Equipment
Rad Source Technologies
Segra International
Thermo Fisher Scientific
Zef Scientific
3. Company/Supplier
Best Cannabis Cultivation Supplier/Distributor
Biofloral
Gorilla Garden Supplies
Green Planet Wholesale
Growhaus Supply Co
Hydrofarm Canada
Loud Lion Supply
Segra International
Sun Parlour Grower Supply
Turning Point Brands Canada
WeShare Supply
Best Extraction Services Provider
Ayurcann Inc.
Blue Sky Hemp Ventures
extractX
Gorilla Garden Supplies
Mera Cannabis
Motif Labs
Nextleaf Solutions
The Valens Company
Best Lab/Testing Facility
A&L Canada Laboratories Inc.
Blue Sky Labs
BPAX Labs
Canvas Labs
CARO Analytical Services
High North Laboratories Inc
Northern Scientific
PPB Analytical Inc.
Segra International
Best Nutrients and Bio stimulants Product
Advanced Nutrients
Bio Quality
Canna
Gaia Green Organics
Grotek Nutrients
Humble Bees Botanical
MIIM Horticulture
Mills Nutrients
Optimum Hydroponix®
Pure Nutrients
Remo Nutrients
Best Packaging, Labeling & Supplies
Boveda
Canadian Copacking Group Inc.
CannaGreen Packaging
Cannasupplies
Dope Automation
epac Flexibles
High Deal Solutions
ND Supplies Inc
Solve4 Solutions
ZipMaster Supply Co.
Best Plant Propagation/Breeding
Big League Genetics
Conception Nurseries
InPlanta Biotechnology
Klonetics
Life Cycle Botanics
Mother Labs
Nine Lions
Segra International
Cannabis Consultant of the Year
Cannabis License Experts
CannDelta Inc.
Consult & Grow
David Hyde – Hyde Advisory & CannaNavigators
dicentra
D'Anterior
Green Team Solutions
Marigold PR
May Khatib
OB Consulting
PID Controls
Sean Barcley
Cannabis Publication of the Year
Cannabis Now
Cannabis Prospect Magazine
Cannabis Retailer Magazine
Garden Culture Magazine
Grow Magazine
Grow Opportunity
High! Canada Magazine
StratCann
Cannabis Wholesale / Distribution
Canadian Cannabis Exchange
Herbal Dispatch
Mendo Cannabis
National Cannabis Distribution
Novem Pharmaceuticals
Weed Pool Cannabis Cooperative
Integrated Pest Management Company of the Year
Abell Pest Control
Anatis Bioprotection
BioBee
BioBest
Koppert Canada
Natural Insect Control
4. Brands & Retail
Accessory of the Year
Another Room
Boro & Beyond – Tru Quartz Brand
BRNT
Canadian Lumber
Castle Glassworks
DabX
Flut
Shatterizer
Stündenglass Gravity Infuser
Best Beverage
Bubble Kush
Ray's Lemonade
Sheesh Sodas
Sweet Justice
Teapot Iced Tea
Versus Neon Rush
XEBRA Vicious Citrus
XMG Truss Beverages
Zèle
Best Edible
AstroNutz – Canadian Eh
Aurora Drift
Bhang Chocolate
Olli Chocolate Brownie
Pearls
Pink Lemonade SOURZ by Spinach® gummies
Rosin Heads
VACAY Chocolate Toffee Crunch
Wana Gummies
WYLD
Best Flower
All Nations – Lemon Tartz
Carmel – Animal Face
Distinkt Cannabis – Lemon Razz
MTL Cannabis Wes
Palm Gardens – Watermelon Sugar
Partake Cannabis – Punch Mints
Pistol and Paris – Orange Tingz
Primeau Cannabis – Lava Cake
Reef Organics – Queen SanG
Royal Harvest – Sherb-O
Stewart Farms- Daily Grape
Super Nova Farms – Space Funk
Truro – MAC & Cheese
Victoria Cannabis Company – Mango Mac
Woody Nelson – Rainbow Driver
Best Oil
FIGR
High Fidliety
Mantra Cannabis
Medipharm Labs – CBN 1:2 NightTime Formula Oil
Solei
Zen Oil
Best Pre-Rolls
Spinach® Fully Charged Atomic GMO infused pre-rolls
1964 SUPPLY CO Organic Comatose
All Nations – Lemon Tartz
Carmel Animal face
General Admission Watermelon Splash
General Admission – 5 Loco Distillate
REMO Farms Supercharged Joint
Smoker Farms Master Kush Ultra
Space Race – Stargirl 1g
Weed Me
Best Topical of the Year
48North – Latitude
DOSECANN Hot & Cold CBD Cream
Medical Cannabis Health Services
Proofly ExtraStrength CBD Relief Cooling Gel
Solei Balance
Stewart Farms- Blue Dream Bath Bomb
WILDFLOWER CBD Relief Stick
Best Vape Product
BACK FORTY Forbidden Fruit 510
Distinkt Discreet Tank
DUNN CANNABIS Apples N Bananas
GENERAL ADMISSION Tiger Blood
Monomyth – Hero Dose 5-MeO-DMT 150 Mg Cartridge
TRIBAL Cuban LInx Live Resin 510
WILDCARD Frozen Gelato Candy Rain Live Resin Cartridge
Zyre
Best Variety Pack
BLK MKT – The Craft Pac
Boxhot – Trifecta of Blunt Smoking Power
Canadian Cannabis Championship Judging Pack
Dab Bods – CITRUS SPECIAL RESIN INFUSED
Flight 420
Pistol and Paris – Pre-Roll Multi Pack
VT Super J 's Variety Pack
4. Brands & Retail
Brand of the Year
BZAM
ENDGAME
General Admission
Pure Sun Farms
Remo Farms
RGB cannabis
Spinach
The Loud Plug
Tilray
Tommy's Craft
Tweed
Versus Cannabis
Brand/Product Sales Agency of the Year
BC Black
Cannavolve
Cronos Group
Dominique Laverdure
Green Hedge
Higher Peaks
Hybrid Brand Management
Kindred
Mercari Agency
Route 1 Sales Agency
Budtender Association of the Year
Budtenders Association
Cannareps
Jamee coubourgh
Tether
UFCW 1518
Direct Delivery to Retail Company of the Year
All Nations
BC Black
Herbal Dispatch
luduh
StoreToDoor
Tricanna Industries
Weed Pool Cannabis Cooperative
Western Extraction | Western Cartel
Independent Retailer of the Year. Presented by Weed Pool
All Nations
Cheeba Cheebas
Cosmic Gardens
Enlightened Herb Cannabis
Flora Cannabis
Garden City Cannabis Co.
Inspired Cannabis
Original Farm
Prairie Records
Sativa Bliss
Seed and Stone
Small Town Buds
UEM Cannabis
Village Bloomery
Violet Wild Cannabis Co
WEEDS®
Indigenous-owned Brand of the Year
All Nations
Hulit
JBuds
Pineapple Buds
Seven Leaf
SUGAR CANE CANNABIS
Uncle Bob
Indigenous-owned Retailer of the Year
All Nations Retail
Costa Canna
FN Cannabis co.
Kana Leaf
Songhees Cannabis
National Retail Chain of the Year
Canna Cabana
CANNABIS XPRESS
Fire and Flower
FOUR20
Nova Cannabis Inc
Plantlife
Sessions Cannabis
Spiritleaf
Tokyo Smoke
POS/CRM/Software of the Year
Cannabiz Media
Certicraft
Cova Software
Dutchie
Elevated Signals
Flow Hub
Greenline POS
Merrco Payments
TechPOS
Product of the Year
AstroNutz – Interplanetary Pasta – Classic Mac
Dab Bods Pheonix Tears
Distinkt Discreet Tank
Dymond Concentrates – Diamond Drops
High Fidliety
Pink Lemonade SOURZ by Spinach® gummies
Rosin Heads – Peanut Butter Cup (Raspberry )
Stewart Farms Blue Dream Bath Bomb
Retail/Budtender Training Agency of the Year
Cannabis Training Canada
Cannabis Training University
CannaReps
CanSell
Level UP
Olds College
2022 Grow Up Awards Photos