This post is presented by our media partner Grow Opportunity
View the full article here.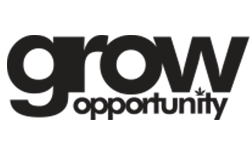 By Michael J. Armstrong, The Conversation
Before Canada legalized recreational cannabis in October 2018, there was considerable debate about its potential effects. Some predicted it would trigger an economic "goldrush," while others worried it would lead to public health "tragedies."
Researchers like myself have since investigated the real effects of legalization. As it turns out, certain trends were already underway before legalization and continued afterward. On the flip side, some changes did not happen as anticipated.
This information can help other countries that are now grappling with similar uncertainties about their own legalization plans. Politicians across the globe have been making diverse claims about the impact legalization will have on their countries.
In the United States, Nebraska Governor Pete Ricketts has said cannabis is a "dangerous drug" that will kill children. German politician Markus Söder has voiced similar concerns.
On the opposing end of the spectrum, Kenyan presidential candidate George Wajackoyah proposed the legalization and commercialization of cannabis as a way to eliminate Kenya's public debt.
Given these debates, Canada's cannabis legalization experience can offer valuable insights to countries navigating the same terrain.
Cannabis use
Many were concerned that legalizing cannabis would trigger a huge increase in usage, resulting in "hordes of stoned teenagers". Opponents to legalization argued that any increase in usage would prove it had failed.
However, the percentage of adults using cannabis had already been increasing prior to 2018. Unsurprisingly, it continued to rise after legalization. Government surveys put the usage rate at nine per cent in 2011, 15 per cent in 2017 and 20 per cent in 2019.
There was a boost after legalization beyond the ongoing trend. But part of that might have been from people becoming more open about cannabis use.
On the other hand, teenagers' cannabis use hardly budged after 2018. This suggests teenagers who wanted cannabis were already able to buy it easily from dealers.
Health issues
Health impacts were also a significant concern while Canada was debating cannabis legalization.
Canada's previous prime minister, Stephen Harper, claimed cannabis was "infinitely worse" than tobacco. His successor, Justin Trudeau, instead said legalization would "protect" health.
In reality, cannabis-related hospital visits by adults were already growing before 2018 and kept growing afterward. Compared to early 2011, the rate in Ontario was about three times higher in 2018 and five times higher in 2021.
The post-2018 growth was, again, partly legalization-related and partly an on-going trend.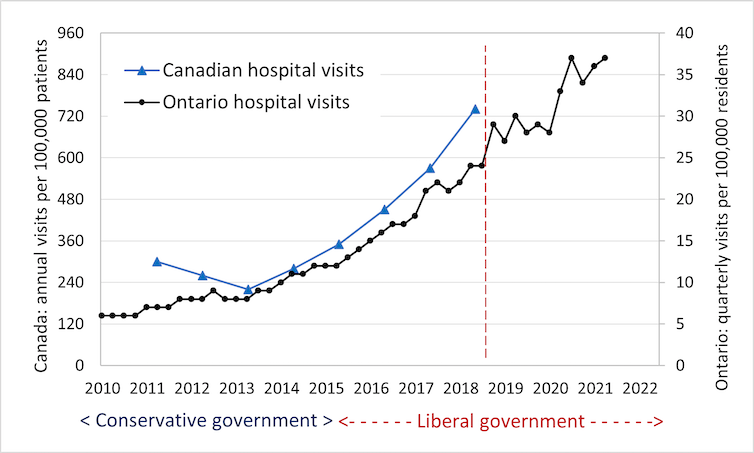 However, some health impacts have been more serious. There has been significant growth in children's hospital visits due to accidental cannabis consumption. Among children under 10 years old, there was a nine-fold increase in emergency room visits and a six-fold increase in hospitalizations.
Driving safety
Law enforcement was concerned that legalizing cannabis would cause more impaired driving. Police complained that they lacked the equipment necessary for detecting cannabis impairment.
Research on whether or not legalization actually resulted in more cannabis-impaired driving remains inconclusive. Unfortunately, government reports often don't specify which substances caused drivers' impairments.
However, we do know overall drug-impaired driving — any substance except alcohol — increased before and after 2018. Compared to 2011, drug-impaired driving arrests roughly doubled by 2017 and quadrupled by 2020.
There have also been ongoing increases in injuries from traffic accidents involving cannabis. Compared to 2011, the injury rates in Ontario were about two times higher in 2017 and three times higher in 2020.
Arrest rates
Legalization also brought up concerns about crime and social justice. The federal government expected legalization would reduce the time police spent on cannabis enforcement. Advocates hoped to see fewer arrests among marginalized groups.
But the declines in arrests that legalization triggered weren't very large. This was because arrests for illegal cannabis possession had already been decreasing in Canada — under both Conservative and Liberal governments — long before legalization.
By 2018, the arrest rate was already 71 per cent lower than its 2011 level.
While arrests fell again in 2019, they bottomed-out afterwards, leaving little room for further rate drops.
Arrests for illegal cannabis distribution offences, like growing and trafficking, fell 67 per cent between 2011 and 2018. This trend largely continued after 2018.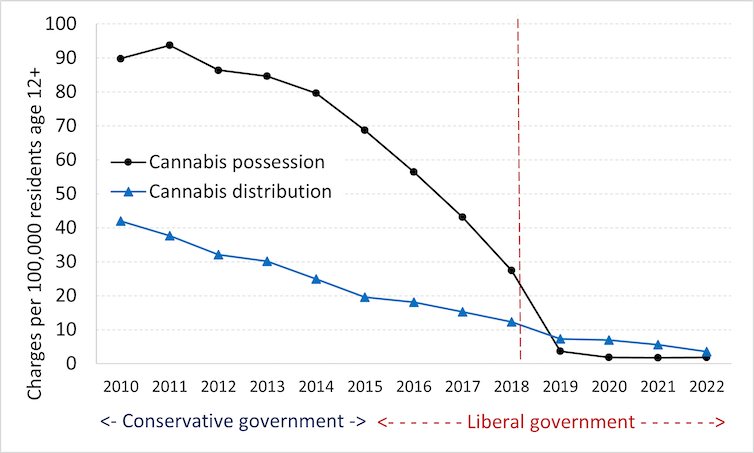 Booming sales
Businesses had high hopes that legalization would lead to an economic goldrush. Foreign investors helped fund Canadian cannabis companies. There were also debates among the governments about how to distribute the new tax revenue.
After legalization, cannabis business did boom in some ways. Although most provinces initially lacked enough stores, there are now more than 3,600 across Canada.
Sales have surged from $42 million in October 2018 to $446 million in July 2023. They're now half as large as beer sales.
However, some regions now have too many cannabis stores and many businesses are struggling to stay afloat. As a result, some corporations and their shareholders have lost billions of dollars.
Only the government-owned cannabis agencies seem to be consistently profitable.
Legalization lessons
While legalization did cause some changes, it was also a government response to changes that were already underway. There are three potential lessons that can be taken away from this.
The first is that cannabis legalization research needs to account for existing trends. It can't rely on simple before-versus-after comparisons. Governments can help with this by publishing more of the cannabis data they collect.
The second lesson is that Canadian policymakers should worry less about whether legalization caused specific cannabis problems. Instead, they should focus on resolving them.
The third lesson is for other countries considering legalization, like Germany, Denmark and the U.S. For these countries, Canada's experience serves as a valuable case study. Policymakers should review their own trends before legalizing, because the outcomes afterward might not be as different as they expect.
---
Michael J. Armstrong does not work for, consult, own shares in or receive funding from any company or organisation that would benefit from this article, and has disclosed no relevant affiliations beyond their academic appointment.
This post was originally published by our media partner here.