This post is presented by our media partner Psychedelic News Wire
View the original article here.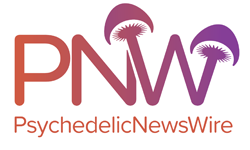 Scientists are working on technology that could alleviate the anxiety related to psychedelic sessions and aid in treating post-traumatic stress disorder (PTSD). Apollo Neuroscience has developed a wearable device called the Apollo wearable that can be worn on the ankle or wrist and produce silent vibrating waves that the company claims can aid in balancing the nervous system.
Recent advances in psychedelic research have found that drugs such as LSD, psilocybin and MDMA show significant promise as mental-health treatments and can provide long-term relief against a myriad of mental disorders. However, even though several psychedelics are proving themselves to be safe and effective treatments compared to traditional mental treatments, patients are often anxious and have concerns about using psychedelics.
Wearable technology may have the potential to alleviate this issue and allow individuals with mental disorders such as PTSD to benefit from psychedelic-based mental health treatments. Apollo Neuroscience's new device could provide the solution.
According to company chief medical officer and cofounder David Rabin, MD, PhD, Apollo Neuroscience discovered after significant research that a wearable form factor could allow the delivery of a "soothing touch" via calming frequencies. These frequencies can help reduce anxiety in patients before, during and after sessions of psychedelic-assisted therapy, which can in turn reduce the risk of going through a negative or challenging psychedelic trip.
Psychedelics exhibited plenty of medical potential in recent years as drug policies have become looser and allowed researchers to study psychedelics in depth for the first time in decades. However, current psychedelic-based therapies involve going through psychedelic trips and experiences that sometimes last several hours and can be negative in some cases.
Some people also aren't entirely comfortable with the idea of being under the influence for several hours, which can in turn impact their experience.
Apollo Neuroscience's wearable device may be the first in a line of technology that leverages psychedelics to treat mental-health conditions such as PTSD.
Rabin notes that many people can experience anxiety when they are suddenly confronted with scary or uncomfortable memories from the past, especially if they weren't specifically prepared to deal with such memories. The Apollo wearable can activate during times of increased anxiety and mimic a therapeutic touch to the patient's wrist or ankle, which can signal to the body that the person is safe and help their sympathetic system step down from fight or flight mode.
A small pilot study testing the wearable device has found that it can reduce feelings of anxiety and stress by 40% in only two weeks.
With technologies being developed to support the psychedelic-assisted therapy field, all signals point to a thriving ecosystem that will not only include psychedelics startups such as Compass Pathways PLC (NASDAQ: CMPS) developing therapeutic formulations  from hallucinogens but also many actors in related verticals.
About PsychedelicNewsWire
PsychedelicNewsWire ("PNW") is a specialized communications platform with a focus on all aspects of psychedelics and the latest developments and advances in the psychedelics sector. It is one of 60+ brands within the Dynamic Brand Portfolio @ IBN that delivers: (1) access to a vast network of wire solutions via InvestorWire to efficiently and effectively reach a myriad of target markets, demographics and diverse industries; (2) article and editorial syndication to 5,000+ outlets; (3) enhanced press release enhancement to ensure maximum impact; (4) social media distribution via IBN to millions of social media followers; and (5) a full array of tailored corporate communications solutions. With broad reach and a seasoned team of contributing journalists and writers, PNW is uniquely positioned to best serve private and public companies that want to reach a wide audience of investors, influencers, consumers, journalists and the general public. By cutting through the overload of information in today's market, PNW brings its clients unparalleled recognition and brand awareness. PNW is where breaking news, insightful content and actionable information converge.
To receive SMS alerts from PsychedelicNewsWire, text "Groovy" to 21000 (U.S. Mobile Phones Only)
For more information, please visit https://www.PsychedelicNewsWire.com
Please see full terms of use and disclaimers on the PsychedelicNewsWire website applicable to all content provided by PNW, wherever published or re-published: https://www.PsychedelicNewsWire.com/Disclaimer
PsychedelicNewsWire
San Francisco, CA
www.PsychedelicNewsWire.com
415.949.5050 Office
Editor@PsychedelicNewsWire.com
PsychedelicNewsWire is powered by IBN
This post was originally published by our media partner here.