This post is presented by our media partner Grow Opportunity
View the full article here.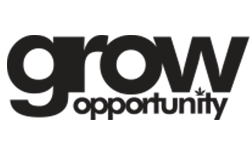 B.C. to Ontario, the Maritimes and now Alberta – with each new edition we offer a look at operations from across our nation. This issue includes a glimpse inside two Calgary-based LPs, stacked with an additional story sourcing three other producers. As we showcase five LPs of varying sizes, spanning three separate provinces just in time for the harvest, we at Grow Opportunity are pleased to say we've reconnected with our cultivation roots.             
It has now been five years since adult-use cannabis became federally regulated in Canada. Despite difficult growing pains, this industry is not going anywhere, and as such, producers have had the opportunity to readjust business practices while those still emerging onto the scene employ their recent findings. 
Regardless, the global cannabis conversation that Canada lit on fire is worthy of celebrating, especially the international expansion, while we continue to adapt to change. 
This September/October issue also brings new topics outside the realm of industry into consideration, by the deepening of introspection brought about by waning daylight. This season, with its crisp air and warm hues, inspires us to get back into reflection before ramping back up for the holidays and the changing calendar year. 
As a preliminary introduction to psychedelics in the magazine, we embark on a journey beyond Canadian confines and into the Amazon rainforest. We move beyond mere business and into the tapestry of origins and identity. 
As more producers are granted dealer's licences, the elephant in the room remains the acknowledgment of the complex issue of cultural appropriation. 
Journalist Devon Scoble shares two perspectives on this issue in her latest feature for Grow Opportunity, urging non-Indigenous users of traditional medicines to respect Indigenous authority in psychedelics. The use of theses sacred plant medicines – ayahuasca, psilocybin and peyote in particular – is a space that still warrants gatekeeping, rather than being blown open strictly for profit.  
But below the ethereal world brought on by the psychedelic experience is the density of our day-to-day affairs, which, in this trade pub, surrounds the  cannabis marketplace. 
Inside you'll find the nuts and bolts of digital marketing and trade-dress in an informative Legal Matters column written by two members of Torkin Manes LLP. Denis Gertler's Vantage Point column reads between the lines of the Competition Bureau's recommendations comprising regulatory information in need of consistent monitoring, and our latest Cultivation column by Jim Strain breaks down his most effective post-harvest techniques. 
We're also pleased to present a Q&A with Oceanic Releaf CEO Taylor Giovannini anchoring the back of this issue, whose task of supplying cannabis to Newfoundland consumers through nearly a quarter of the province's retail locations serves as a reminder of what this industry is working towards. While Oceanic is an effective vertical business model of retail and cultivation, Giovannini finds the most meaning in the task of shared health and wellbeing between herself and her community. 
As we celebrate five years of cannabis legalization, we reflect on the remarkable progress made, the lessons learned and the milestones yet to come.
Here at Grow Opportunity, we look forward to announcing the two winners of Canada's Top Grower Award gracing the cover of our final issue of 2023, and, as always, we look forward to continue working alongside those at the helm of the mighty  Canadian cannabis enterprise.   
Until next time. 
This post was originally published by our media partner here.