This post is presented by our media partner Grow Opportunity
View the full article here.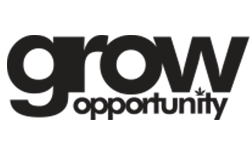 October began with an industry reunion in Victoria held immediately after Reconciliation Day, and reflected themes of social equity and the push towards inclusivity in the space. Now, Canada celebrates five years of legal recreational cannabis, symbolizing the common and worthwhile goal for those who recognize the validity of this industry, its socioeconomic implications and ultimately, its inevitable longevity. A celebratory month all around, eager and eclectic participants met in B.C.'s capital city and contributed to the Grow Up platform that continues to ripple outwards in connection and conversation weeks later.
Following the distinctive economic and political concerns voiced by the industry, experts also highlighted the challenges faced by growers, calling for a supportive regulatory framework for fair competition and local business support. This was especially poignant for the large portion of micros and craft growers the conference attracted. Farmgate, direct delivery, consumption lounges, budtenders and branding, international and domestic strategies and marketing tactics made up other major themes.
Shifting from producer to consumer, Siobhan McCarthy, medicinal topicals producer and CEO of blyssful PRODUCTIONS and blyssful ALCHEMY, moderated a panel called the future of cannabis retail, innovation, customer experience and market trends.
While we've graduated away from "the sea of black bags" to welcome single coloured mylar bags, still retailers feel that this shift hasn't done enough for differentiation in the space.
Celebrating the growers
Terra Maibach, owner of Vancouver Island's Violet Wild Cannabis Co. and winner of independent retailer of the year award, spoke about the need for "brand recognition" and, more specifically, "recognizing the individuals who grew the product and created the categories – we need to have their colours and branding so they can differentiate and represent themselves."
"A lot of the time a client will go by price or the bag. Certain colours don't sell as well," said Maibach. "These are all lifestyle brands and cannabis is just one part of it – these brands are much bigger than just cannabis. We also need to differentiate between what's commercially farmed cannabis vs. what's craft."
Zelca's founder and CEO Jen Meyers, a microprocessor and research license holder in Calgary, showed an alternative facet of the edibles category using high integrity ingredients steering clear of processed syrups and dyes.
"I feel like I'm pioneering a pantry category," she said, "like I'm the first mover in this space." Ethos of a holistic approach echoed during this panel of happy-go-lucky collaborative people, who favour educational events in the community and stay away from "subpar products."
McCarthy's topicals have awaited entry into the marketplace due to her search for the right partner, which she's found in Dabble Cannabis Co., and not wanting to put her products into the current limited packaging.
The women also touched on the different minor cannabinoids that a number of companies and brands are now experimenting with. "I live in that category playing with minor cannabinoids," said Meyers. "I love CBG; it's the mother" – a favourite cannabinoid of McCarthy as well.
And yet, "pre-rolls seem to be king – everyone wants a quick smoke," said Maibach. "And as an extension of that, how do we innovate when we're stuck behind these mylar bags? Right now, we're all buying with our eyes."
Beyond borders
At the conference, Aurora's director of regulatory affairs Annaliese Kibler discussed global horizons, saying she was "thrilled to moderate a panel with expert peers to discuss the success and challenges of the international medical cannabis market."
Kibler's key motivation in cannabis "is to find ways to help more medical patients across the world gain access to their medicine," stating that she is "honoured that Grow Up, again, created the opportunity to have this important discussion on how Canada can continue to be a leader to emerging markets globally."
Panelists discussed documentation and regulations, certifications, compliance and relationship building – especially when it comes to the opportunities for micros or small standard producers. Andrew Scott, Vancouver-based broker for the Canadian Cannabis Exchange and Global Cannabis Exchange addressed some of the opportunities specific to those producers.
While the door that opens to international can seem daunting whereas certifications are concerned, Scott reported that one of the opportunities for smaller Canadian producers lies with domestic buyers who already have GMP certifications and are looking to buy GACP product.
Buyers are willing to "pay a premium price per gram that they will then upgrade, package and ship overseas," he said. Scott recommends producers take this on because "it lacks the complexities of an international deal but it's actually a domestic deal where you're not waiting 45 or 60 days from a provincial board to get your money, you're getting money up front and you're getting more than you would for non GACP dried flower."
All about flower
A masterclass that helped wrap the Grow Up Victoria show was moderated by Av Singh and featured Stratus Designs CEO Adam Clarke, expert facility designer and consultant. The technical series masterclass fishbowl turned out to be "as promised," said Clarke – "a packed room of guests and deep discussions on topics throughout a lot of the cannabis industry."
Topics of interest included pest control with predatory insects vs. fungus-based sprays and banker plants, and other imperatives surrounding the epidemic of Hop Latent Viroid currently circulating. Another hard hitting topic during the masterclass was in the realm of organics and living soil where growers can sometimes be found to make mistakes based on having too much of a specific compound in their soil, such as sulfur, which was one of the examples given during the session.
Overall, the conference served as a reminder of why so many pioneers established this space in the first place, and how the cannabis plant does not discriminate, and, as such, nor should the actors in its space. By creating a more inclusive and equitable industry, Canada can ensure that the benefits of cannabis legalization are shared by all.
As the country today celebrates five years of legal cannabis, it is clear that there is still much work to be done. However, the industry reunion in Victoria provided a platform for productive discussions and meaningful contributions to the ongoing conversation.
With a renewed commitment to inclusivity, creativity, and social responsibility, it seems, Canada can continue to lead the way in the global cannabis marketplace.
This post was originally published by our media partner here.