This post is presented by our media partner Garden Culture Magazine
View the original article here.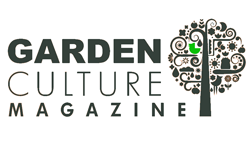 Before pumpkins became the canvas for a witch's cat or toothless scarecrow, there were turnips. In ancient times, the Celts living in Ireland, the UK, and northern France celebrated the new year on November 1st. They believed that the night before the new year, the veil between the worlds of the living and the dead lifted, and spirits roamed the earth. Lanterns with ghoulish faces were carved out of turnips, potatoes, and beets and then placed on windowsills to scare away those ghosts with evil intentions.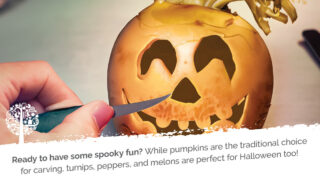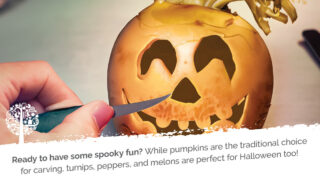 Irish immigrants brought the tradition to North America, but instead of turnips, they carved pumpkins. Primarily found in North America, a pumpkin was easy to grow, much larger than a turnip, and soon became the quintessential emblem of Halloween.
But who's to say you still can't carve a turnip? How about a bell pepper or watermelon?
Turnips
Turnips are more challenging to carve than pumpkins and will take more time and effort to hollow out, but they might be even scarier when lit up. Just keep the top to add a cover and flatten the bottom so it sits solidly on the porch or windowsill.
Shorter lasting than pumpkins, they're only good outdoors for about three to five days before they start to rot, so carving them closer to October 31st is a must. But, like a pumpkin, you can cut anything in a turnip, from the traditional toothless-faced goblin to a small ghost.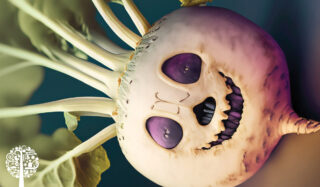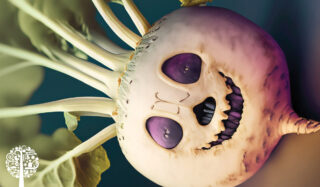 Potatoes
Potatoes are great for carving. Although a little tricky to hollow out, the starch in the potato means it holds up well to sculpting. Buy a bag of Russet potatoes (the best for carving), and if you make a mistake, eat potato salad for dinner! Carve a whole bunch, stack them, and create a pyramid of scary ghouls and goblins!
Bell peppers
Bell peppers add color to any Halloween display. Mostly hollow, they are super easy to scoop out but don't last long once carved. They can also be brittle, so keep your carving simple to avoid cracks and breakage.
Beets
Beets are similar to turnips in size and texture. Their dark red color adds a ghoulish vibe to the Halloween display. Carved beets will last up to a week if kept cool outside or in the fridge until you are ready to set them out. Beets bleed, and as you carve them, your hands will get blood red – how much fun for the kids is that?
Melons
Cantaloupe and honeydew are easy to carve, but watermelon ranks alongside pumpkins as the easiest alternative vegetable and fruit to carve.
They're large, easy to hollow out, and can be made into anything. The bright pink interior is a freakish sight when lit up against the green skin of the fruit. Sadly, melons will not last long outside, so plan to carve close to the big day.
Happy Halloween!
This post was originally published by our media partner here.