This post is presented by our media partner Grow Opportunity
View the full article here.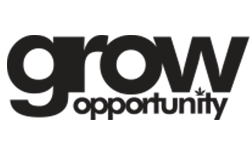 By Marcus Bankuti, Local Journalism Initiative Reporter
THE EASTERN DOOR
When members of Ionkwatehontsenhne decided to speak with The Eastern Door, they wanted to meet in the Pines, where a white sign reads "Onen'to:kon preservation area. No cutting trees."
Around it, piles of branches and logs lay in tidy piles. Keep Their Heads Ringin' by Dr. Dre blasted from a nearby cannabis store. From another, a man walked out and wanted to know why someone was taking pictures. He said it was private property.
In fact, he stood on community land.
When members of Ionkwatehontsenhne — committed to protecting the Pines — arrived, the man returned to ask why the group had assembled here. "This is our land," one replied. The man went inside again.
"I think that's the very thing that fuels us," said Alana — not her real name — referring to the pressure. "It takes very strong people to stand here and say you're not doing this, this is not right."
She and two other Kanehsata'kehro:non women who met with The Eastern Door — who have been given the pseudonyms Brenda and Clara — expressed fears for their safety, which is why their identities are being concealed. "If anyone's pinpointed as a leader or to be outspoken, we get targeted. So it's very important that there's no real names," said Alana.
"What happened here in 1990 was bigger than all of us," she said. "And the Pines represent that for us, and it's sort of like our backbone in Kanesatake to say we're real Onkwehon:we, and we're proud of it. So we decided to dedicate this area for a memorial site to remember 1990 and honour the Warriors, the women, everyone who fought to stand for us. If we didn't do that, this would be a golf course, apartment buildings owned by Oka. We would have nothing."
The group of women previously intervened in tree cutting in 2020, with more than 10 women gathering in freezing weather to halt the felling of trees for the expansion of cannabis stores.
Within the past couple months, an agreement to leave the tree line around the preservation sign was violated, they said, and a once dense patch of forest is now gone.
"It's what it symbolizes," said Brenda. "In 1990, I was there. We fought for these trees. And we want people to become aware that these are majestic. This is health. There are medicines in here."
Their goal is all about awareness, the women said, trying to work to create common ground in the community around the importance of the pine forest.
"There's a lot of people who are really against seeing the Pines getting cut. But there is the other half where it's like, `Get over it. The trees have already been cut. It's too late.' But it's not too late. There are still a lot of trees left that we can save," said Clara, who said she was too young to intervene when the stores were first being built.
"A lot of these stores aren't backed up either by all Onkwehon:we here. These people are greedy. They're not from here, so they're just going to keep pushing, pushing, pushing to take everything they can here, because there are no laws here. It's a free-for-all."
Despite the calls to halt cutting, Alana said the group is not seeking to get rid of the cannabis stores on the strip, but rather insisting they not expand into the forest.
"We're not going to start digging up pavement and destroying buildings. We want to save what little we have left," said Alana.
"I just want to make it very, very clear that we are not against economic development of any kind. What we are doing here is seeing how much one individual can take." She said it would be wrong and unnecessary to cut deep into the pine forest. "You don't need that," she said.
"Do your thing, but do it in a way that is true. We can take being Native and making a business and make it work together where you have your store, you do your thing, but you're not going to take acres and acres of community land just because you have the manpower or the intimidation tactics behind it."
The group declined to speculate on what their next steps might be if the cutting of trees continues.
This post was originally published by our media partner here.