This post is presented by our media partner Psychedelic News Wire
View the original article here.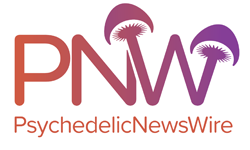 In the recent years, we've seen more studies explore the therapeutic benefits of psychedelics, with researchers as well as public figures such as Prince Harry discussing the mental and physical health benefits of these substances. Some countries have even relaxed their laws on psychedelics, with Australia becoming the first country in the world to legalize the medical use of psychedelics. The state of Oregon as well as some cities in the United States have done the same, with members of Parliament in the United Kingdom now championing for rescheduling.
Some artists have also been pairing their music with psychedelics. For instance, East Forest, whose real name is Trevor Oswalt, led his first psilocybin mushroom ceremony more than a decade ago. While the use of drugs is illegal, Oswalt believes they present a doorway for those who want to go deeper and be more vulnerable while also experiencing something new.
During East Forest's ceremonial concerts, listeners can lie down on mats in a dimly lit room to properly take in the music; the scent of aromatherapy oils often fills the air. East Forest is not the first artist to pair music and psychedelics either, as the fusion of psychedelics and music has been a thing since the 1950s and 1960s, with popular artists such as the Beatles opening up about their experiences with these mind-altering substances.
Jon Hopkins, an electronic star known for producing for acts such as Brian Eno and Coldplay, also believed in the power of psychedelics.
Institutions have also shown interest in this growing field, with some, including Johns Hopkins University, dedicating a center to psychedelic and consciousness research in Maryland.
Oswalt recently released his latest album, which follows his previous works, including a collaborative album with psychologist, spiritual teacher and author Ram Dass. He also plans to release a documentary next year titled "Music for Mushrooms."
When asked about legalization, Oswald noted that it was inevitable as no one should be convicted for a nonviolent crime involving a substance that grows naturally. He also points out that psychedelics may not work for all, noting that some may have traumatic experiences on the drugs and adding that they may also cause harm.
At the moment, however, psilocybin mushrooms remain classified as class A drugs in the United Kingdom, attracting a maximum penalty of seven years when one is found in possession of them. Production or supply of these substances may result in life in prison.
Additionally, the NHS has included psilocybin on its list of drugs that could trigger psychotic episodes. As entities such as Mind Medicine Inc. (NASDAQ: MNMD) (NEO: MMED) (DE: MMQ) succeed in commercializing psychedelic formulations, regulators around the world could revise the classification of these substances in light of their medicinal value.
About PsychedelicNewsWire
PsychedelicNewsWire ("PNW") is a specialized communications platform with a focus on all aspects of psychedelics and the latest developments and advances in the psychedelics sector. It is one of 60+ brands within the Dynamic Brand Portfolio @ IBN that delivers: (1) access to a vast network of wire solutions via InvestorWire to efficiently and effectively reach a myriad of target markets, demographics and diverse industries; (2) article and editorial syndication to 5,000+ outlets; (3) enhanced press release enhancement to ensure maximum impact; (4) social media distribution via IBN to millions of social media followers; and (5) a full array of tailored corporate communications solutions. With broad reach and a seasoned team of contributing journalists and writers, PNW is uniquely positioned to best serve private and public companies that want to reach a wide audience of investors, influencers, consumers, journalists and the general public. By cutting through the overload of information in today's market, PNW brings its clients unparalleled recognition and brand awareness. PNW is where breaking news, insightful content and actionable information converge.
To receive SMS alerts from PsychedelicNewsWire, text "Groovy" to 888-902-4192 (U.S. Mobile Phones Only)
For more information, please visit https://www.PsychedelicNewsWire.com
Please see full terms of use and disclaimers on the PsychedelicNewsWire website applicable to all content provided by PNW, wherever published or re-published: https://www.PsychedelicNewsWire.com/Disclaimer
PsychedelicNewsWire
San Francisco, CA
www.PsychedelicNewsWire.com
415.949.5050 Office
Editor@PsychedelicNewsWire.com
PsychedelicNewsWire is powered by IBN
This post was originally published by our media partner here.