This post is presented by our media partner Psychedelic News Wire
View the original article here.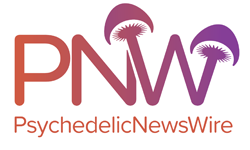 Late last year, voters in the state of Colorado approved the Natural Medicine Health Act, which decriminalized the personal use of substances such as psilocybin mushrooms for those aged 21 years and older. This year, another measure that legalized testing laboratories for psychedelic substances was approved.
The Psychedelic Club of Denver, a volunteer-run nonprofit organization, is focused on community education, harm reduction and destigmatization of psychedelic substances. The club recently hosted its first-ever competition for homegrown psilocybin mushrooms, called the Psychedelic Cup.
The goal of the event was to collect data on different psilocybin mushrooms that was previously unknown in order to better meet the differing needs of patients. The competition, which was organized by Jonathan Cherkoss, was a great success, both for psychedelic mushrooms as well as the general public, with almost 200 growers presenting their mushrooms for sampling at the Mile High Station in Denver.
The popularity of the event demonstrates growing curiosity about psilocybin mushrooms, which has been bolstered by their decriminalization and mainstream appeal. This has, in turn, elevated the substances' potential for recreational and medicinal use.  The competition had different categories, including most envious and best in show, which led to long lines of individuals eager to name their favorite mushrooms during the award ceremony.
The potency analysis for each mushroom, which focused on determining the levels of psilocybin, was done by Altitude Consulting. This was rated from lowest level detectable to highest level detectable.
Altitude Consulting's lab manager, Colton Brook, stated that it was the only laboratory in the country that held a global accreditation for psychedelic testing. Brook added that most of the growers who took part in the competition had never had their mushrooms tested for psilocybin levels, noting that he hoped the information gathered could help researchers and clinical trials.
In an interview, Cherkoss noted that the competition went wild after it sold out, having drawn more than 400 attendees and cultivators from Colorado as well as other states. The organizers of the event also revealed that more than 500 samples were submitted, which allowed them to compile the biggest ever public database of psilocybin mushrooms.
Chase Quatela, a microbiologist at Altitude, added that he was interested in seeing how individuals would use the data from the awards to vamp up their psilocybin mushroom products.
It should be noted that the competition did not have judges, and no mushrooms were consumed. Growers received awards based on a seven-panel test done by Altitude Consulting.
Such events indirectly draw attention to the research and development work being done by enterprises such as Compass Pathways PLC (NASDAQ: CMPS) with the aim of bringing FDA-approved psychedelic medicines onto the market.
About PsychedelicNewsWire
PsychedelicNewsWire ("PNW") is a specialized communications platform with a focus on all aspects of psychedelics and the latest developments and advances in the psychedelics sector. It is one of 60+ brands within the Dynamic Brand Portfolio @ IBN that delivers: (1) access to a vast network of wire solutions via InvestorWire to efficiently and effectively reach a myriad of target markets, demographics and diverse industries; (2) article and editorial syndication to 5,000+ outlets; (3) enhanced press release enhancement to ensure maximum impact; (4) social media distribution via IBN to millions of social media followers; and (5) a full array of tailored corporate communications solutions. With broad reach and a seasoned team of contributing journalists and writers, PNW is uniquely positioned to best serve private and public companies that want to reach a wide audience of investors, influencers, consumers, journalists and the general public. By cutting through the overload of information in today's market, PNW brings its clients unparalleled recognition and brand awareness. PNW is where breaking news, insightful content and actionable information converge.
To receive SMS alerts from PsychedelicNewsWire, text "Groovy" to 888-902-4192 (U.S. Mobile Phones Only)
For more information, please visit https://www.PsychedelicNewsWire.com
Please see full terms of use and disclaimers on the PsychedelicNewsWire website applicable to all content provided by PNW, wherever published or re-published: https://www.PsychedelicNewsWire.com/Disclaimer
PsychedelicNewsWire
San Francisco, CA
www.PsychedelicNewsWire.com
415.949.5050 Office
Editor@PsychedelicNewsWire.com
PsychedelicNewsWire is powered by IBN
This post was originally published by our media partner here.