This post is presented by our media partner Psychedelic News Wire
View the original article here.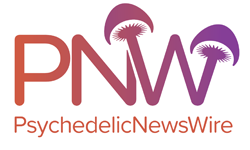 A new study published in the "ACS Pharmacology & Translational Science" journal has revealed that psychedelics such as psilocybin may combat stress by triggering a temporary increase in stress hormones. The research provides more insight into the potential underlying mechanisms that may allow psychedelics to deliver various mental health benefits.
Psilocybin is a psychedelic compound that occurs naturally in certain mushroom species. It is converted into the active form psilocin when ingested and mainly interacts with serotonin receptors in the brain. The traditional "psychedelic experience'" occurs when psilocin interacts with the serotonin 2A receptor subtype and induces feelings of altered mood, consciousness and perception.
A recent surge in psychedelic-related research found that various psychedelics have the potential to offer long-term relief against several mental-health disorders at low doses and with minimal adverse side effects. Researchers have spent the past few years researching the potential benefits of using psychedelics as alternative treatments for hard-to-treat mental disorders, including post-traumatic stress disorder (PTSD), major depressive disorder and eating disorders.
There has also been a concerted effort to understand how psychedelics interact with the brain to figure out how to develop effective psychedelic-based therapies. These research efforts culminated in a type of therapy called "psychedelic-assisted therapy," which involves dosing patients with psychedelics and then guiding them through psychedelic experiences before helping them integrate the insights they made during the experience into their lives.
As clinical studies involving psychedelic-assisted therapy have registered incredibly promising results, this type of therapy has attracted plenty of public attention because of its potential to treat conditions such as PTSD and depression long-term.
Cody J. Wenthur, study author, University of Wisconsin–Madison assistant professor and director of Psychoactive Pharmaceutical Investigation Programs, noted that psychedelics such as psilocybin are attracting considerable scientific attention, especially in clinical trials, as support for nondrug, talk-therapy approaches.
With these psychedelic compounds drawing closer and closer to FDA review, Wenthur said gaining an understanding of how psychedelics function on a biological level will be crucial to designing psychedelic-assisted treatments that minimize patient risk and maximize safety. Wenthur and his team used a mouse model to study psilocybin's pharmacological and biological aspects. They found that a certain dose of psilocybin produced anti-anxiety effects similar to anxiolytic drugs around four hours after initial dosing.
Additionally, the researchers discovered that psilocybin triggered a rapid increase in corticosterone levels in blood plasma, indicating that the stress hormone played a role in psilocybin's anti-anxiety effects. However, psilocybin didn't deliver any significant anti-anxiety effects in mice with consistently high corticosterone plasma levels.
As other enterprises such as Seelos Therapeutics Inc. (NASDAQ: SEEL) dig further into understanding how different psychedelics bring about their therapeutic effects, the world could see an array of hallucinogenic-based formulations approved by regulators such as the FDA for treating a variety of mental health and other ailments.
About PsychedelicNewsWire
PsychedelicNewsWire ("PNW") is a specialized communications platform with a focus on all aspects of psychedelics and the latest developments and advances in the psychedelics sector. It is one of 60+ brands within the Dynamic Brand Portfolio @ IBN that delivers: (1) access to a vast network of wire solutions via InvestorWire to efficiently and effectively reach a myriad of target markets, demographics and diverse industries; (2) article and editorial syndication to 5,000+ outlets; (3) enhanced press release enhancement to ensure maximum impact; (4) social media distribution via IBN to millions of social media followers; and (5) a full array of tailored corporate communications solutions. With broad reach and a seasoned team of contributing journalists and writers, PNW is uniquely positioned to best serve private and public companies that want to reach a wide audience of investors, influencers, consumers, journalists and the general public. By cutting through the overload of information in today's market, PNW brings its clients unparalleled recognition and brand awareness. PNW is where breaking news, insightful content and actionable information converge.
To receive SMS alerts from PsychedelicNewsWire, text "Groovy" to 21000 (U.S. Mobile Phones Only)
For more information, please visit https://www.PsychedelicNewsWire.com
Please see full terms of use and disclaimers on the PsychedelicNewsWire website applicable to all content provided by PNW, wherever published or re-published: https://www.PsychedelicNewsWire.com/Disclaimer
PsychedelicNewsWire
San Francisco, CA
www.PsychedelicNewsWire.com
415.949.5050 Office
Editor@PsychedelicNewsWire.com
PsychedelicNewsWire is powered by IBN
This post was originally published by our media partner here.