This post is presented by our media partner Garden Culture Magazine
View the original article here.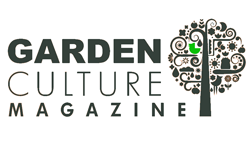 At first glance, my tiny urban townhouse appeared void of viable garden space. Outside the front door, butting up against the concrete wall of the adjacent building, were two 1.5-meter-wide gravel-tiered eyesores. They were eight metres long and full of ferns, cotoneaster, and weeds. It seemed hopeless, but after much trial and error, the space now boasts a small, lush urban garden. You can also transform your space by following my tips for creating a garden in tight spaces.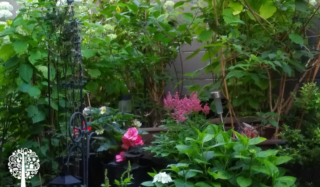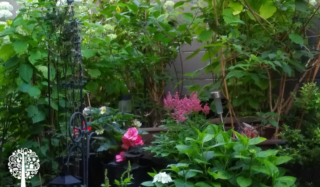 Observe
As tempting as it was, I didn't immediately start pulling out the existing foliage; I let the space percolate. I watched the sun's position and what areas were shadier than others.
I gauged the temperature during hot summer days. Did the large concrete wall cool the garden or, in summer, hold the heat and fry plants? I also took the time to draw how I envisioned the space in each season.
Coherency
Coherency and balance are essential in design. A jumble of colored pots and mismatched furniture can give the eye the illusion of clutter and closed-in space. If there's a defined theme, the area can appear larger.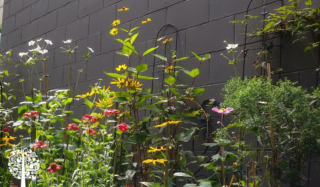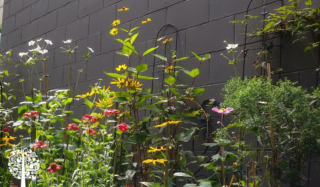 I chose a cottage garden theme highlighted by black wrought iron. Trellis, fences and other non-organic additions didn't have to be identical as long as they maintained a wrought-iron look. It also meant sticking to containers that were either black, grey, or brown and blended with the theme.
Layering
Someone once told me design is like a lasagna; start with the basics and layer. I added structure, like a trellis, small fences, and tall hanging basket hooks.
This step was followed by adding evergreens. The consistent stalwarts of the garden add winter interest and give focal points throughout the year.
Then came deciduous shrubs like hydrangeas. The spaces between were designated for perennials and annuals.
Think To Scale
Every plant in a small space garden uses up real estate. A buddleia, for example, will take up more room than a row of sunflowers or echinacea. Luckily, there are many dwarf varieties of garden favorites available. A Korean dwarf lilac may have smaller flowers but will maintain its height and width at 4-5 metres compared to its taller 10-metre-high cousin.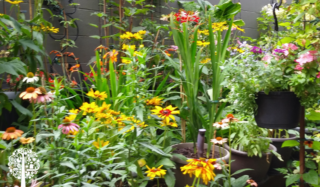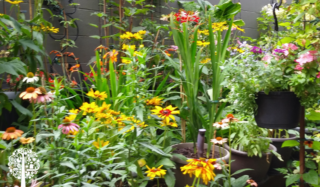 If the furniture in a small space garden is too large, it can make it seem smaller. Small bistro patio tables are great, as are small two-seat benches tucked into a corner.
Think Vertically
One of the tricks of small-space gardening is to fool the eye into thinking there's more room than there is. The two tiers of my garden have ledges between them, and I make good use of them and the back wall, which features a line of trellis and intertwining clematis.
The narrow tiers appear much wider than they truly are. If you don't have ledges, stacking outdoor tables to hold pots or an old bench that gives you more room to add another layer of plants can create the same illusion.
Colors
In a small garden, even if it's just a patio or apartment balcony, keeping plants in different colors also creates an illusion of space. In the summer, my garden is full of red beebalm, yellow sunflowers, red daylilies, echinacea, pots of crimson geraniums, and New Guinea impatiens.
In the spring, mauve trailing bell flowers, white snowdrift, and the pale purple of the lilac create a softer palette that draws the eye to look beyond to the next part of the garden; it seems to go on forever!
I made many mistakes, but the most important thing I've learned is to create a garden reflective of your personality and how you feel when you're in it. No matter how small – any space can become a place to grow and be part of nature.
This post was originally published by our media partner here.