This post is presented by our media partner Psychedelic News Wire
View the original article here.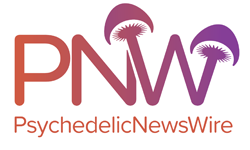 Recent advancements in virtual technology may have applications in psychedelic-assisted therapy. Both are relatively new fields that have attracted lots of attention in recent years thanks to their potentially game-changing applications.
Psychedelic-assisted therapy has shown it has the potential to offer long-term relief against a variety of mental-health disorders with few if any side effects. Researchers have found that virtual technology may enhance psychedelic-assisted therapy by simulating the visual phenomenology of psychedelic states. With both fields in their infancy, scientists are focusing their efforts on using virtual reality (VR) as a companion to psychedelic-assisted therapy or a potential nondrug alternative.
The Isness-D study found that interactive group virtual-reality experiences have shown that they can simulate effects similar to psychedelics, including psilocybin (magic mushrooms) and LSD. These results drew the interest of scientists who were already interested in the efficacy of combining VR with psychedelic therapy as well as the ability of VR to mitigate bad trips.
Aside from individuals who simply don't want to go through a psychedelic experience as part of their treatment, the possibility of bad trips is perhaps the most adverse side effect of psychedelic-assisted therapy.
Isness-D was the brainchild of digital artist, scientist and Intangible Realities Laboratory (IRL) founder David Glowacki, a specialist in scientific stimulation and interactive multiperson virtual reality. After having a life-altering, near-death experience during a mountain hike, Glowacki created Isness-D and used scientific stimulation to recreate the near-death experience.
There is growing evidence that group VR can produce psychedelic-like effects, such as feelings of self-actualization, transcendence and ego death. Participants also reported experiencing feelings of connectedness and epiphanies, feelings that are also induced by numerous psychedelics.
But with most of this research still in its infancy, we still don't understand how interactive group VR produces psychedelic-like effects or whether it can trigger similar brain mechanisms. In fact, researchers still don't fully understand the brain mechanisms that allow psychedelics to alleviate mental disorders such as anxiety, treatment-resistant depression, eating disorders and post-traumatic stress disorder (PTSD).
The prevailing theory is that psychedelics stimulate neuroplasticity, the brain's ability to change and adapt to extrinsic and intrinsic stimuli, and boost brain entropy. Psychologist and chief science officer at VR program Healium Jeff Tarrant says that virtual reality experiences can increase entropy, or the brain's collective knowledge and information processing capacity. He says that while virtual reality may not replace psychedelic-assisted therapy completely, it may offer alternative approaches that could enhance mental-health treatments.
The public is closely watching these developments as it also keeps an eye on psychedelics startups such as atai Life Sciences N.V. (NASDAQ: ATAI) that are making headway in developing therapeutic formulations from psychedelic compounds.
About PsychedelicNewsWire
PsychedelicNewsWire ("PNW") is a specialized communications platform with a focus on all aspects of psychedelics and the latest developments and advances in the psychedelics sector. It is one of 60+ brands within the Dynamic Brand Portfolio @ IBN that delivers: (1) access to a vast network of wire solutions via InvestorWire to efficiently and effectively reach a myriad of target markets, demographics and diverse industries; (2) article and editorial syndication to 5,000+ outlets; (3) enhanced press release enhancement to ensure maximum impact; (4) social media distribution via IBN to millions of social media followers; and (5) a full array of tailored corporate communications solutions. With broad reach and a seasoned team of contributing journalists and writers, PNW is uniquely positioned to best serve private and public companies that want to reach a wide audience of investors, influencers, consumers, journalists and the general public. By cutting through the overload of information in today's market, PNW brings its clients unparalleled recognition and brand awareness. PNW is where breaking news, insightful content and actionable information converge.
To receive SMS alerts from PsychedelicNewsWire, text "Groovy" to 21000 (U.S. Mobile Phones Only)
For more information, please visit https://www.PsychedelicNewsWire.com
Please see full terms of use and disclaimers on the PsychedelicNewsWire website applicable to all content provided by PNW, wherever published or re-published: https://www.PsychedelicNewsWire.com/Disclaimer
PsychedelicNewsWire
San Francisco, CA
www.PsychedelicNewsWire.com
415.949.5050 Office
Editor@PsychedelicNewsWire.com
PsychedelicNewsWire is powered by IBN
This post was originally published by our media partner here.