This post is presented by our media partner Stratcann
View the original article here.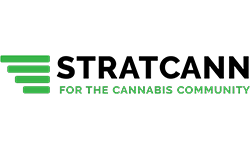 It's been another busy, news-filled week at StratCann, where we ran a piece looking at CannStandard's Dried Flower Price Outline 2021-2023. 
We also covered: UBC and Aurora Cannabis looking at developing better outdoor cultivars for Canada; Metro Vancouver rethinking regulation of cannabis VOCs; Alberta's consideration of white label cannabis products; a Conservative Party policy proposal to abolish medical cannabis tax; the AGCO and OCS rolling out a new POS data platform; and a new study that calls into question the accuracy of field sobriety tests for cannabis. 
We also noted that Stats Canada says some cannabis users are one toke over the line, and that BC is reviewing cannabis sampling rules for producers and retailers.
In other cannabis news… 
CBC ran a story on upcoming changes to the OCS' wholesale pricing in September, an announcement the province made earlier this year. The article includes comments from George Smitherman of C3, OCS president and CEO David Lobo, and Cameron Brown of The Hunny Pot.  
Globe and Mail ran an interview with Anne McClellan, former Chair of the federal government's Task Force on Cannabis Legalization and Regulation says she is surprised at the lack of research on the health effects of cannabis use. "The big disappointment coming out of the legalization project is that governments and researchers have not stepped up in the way that we had hoped after legalization to do a lot of that research," Ms. McLellan said. "There is a lot that we do not know that we are going to need to know."
Total in-house research and development expenditures in Canada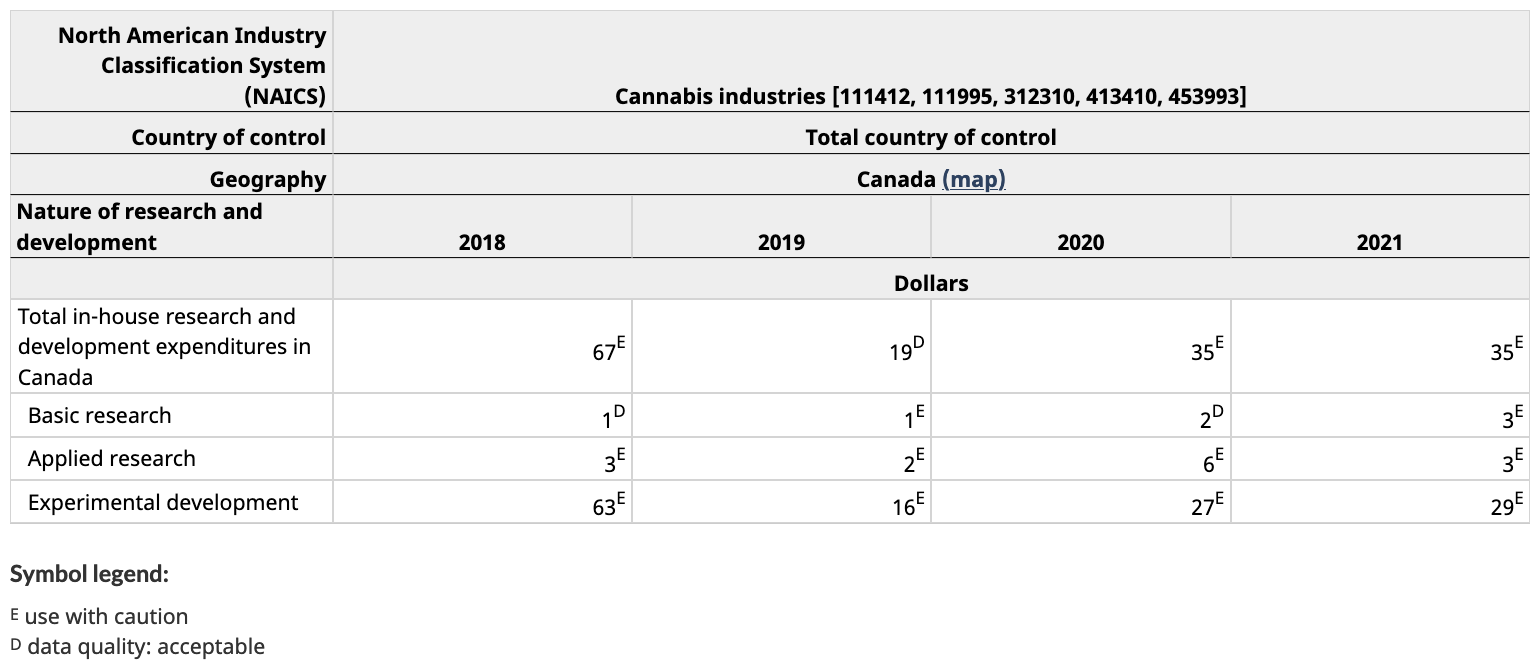 MediPharm announced the first delivery of its pharmaceutical cannabis product for an NIH-funded clinical trial, following an import permit from the US Drug Enforcement Agency (DEA) and a Health Canada export permit. This is the first US FDA Audit of a purpose-built commercial cannabis facility in Canada. This clinical trial material is cannabis oil that contains both CBD and THC. To the company's knowledge, this is the first Phase 2 clinical trial of its kind sourced from a Canadian Licenced Producer.
Labstat says it would like to see tax revenue from the federal and provincial governments used to fund comprehensive product research and testing. "We need stronger collaboration between industry and government to provide transparent health information to consumers," said Labstat President Michael Bond.
The law firm McCarthy Tetrault shared a recent ruling from the Alberta Gaming, Liquor and Cannabis Commission (AGLC) in its decision in the matter of Canna Cabana Inc., in which, Acting on a public complaint, the AGLC's Regulatory Services Division (RSD) investigated and determined that a tagline and customer reviews from a recent promotional newsletter were non-compliant with AGLC policy. The RSD imposed an administrative penalty of $25,000 or a 100-day suspension.
The panel found the tagline that used the phrase "get higher" was promoting overconsumption, that customer reviews were prohibited testimonials or endorsements and claimed positive impacts from the usage of cannabis products: in particular, the enhancement of recreation. The authors of the article conclude that a judicial review of the decision is likely, given the significant penalty imposed and the potential consequences to the retailer of subsequent contraventions.
——————–
Brands and Products
Glow LifeTech Corp, a Canadian-based biotechnology company focused on producing nutraceutical and cannabinoid-based products, announced the launch of two cannabis consumer brands in Canada, MOD and .decimal, with both featuring Glow's portfolio of "liquid and powder cannabis ingredient technologies." 
Cannabis brand BC Bud announced three new extracts available in the BC market. The brand house works with several BC producers like Cedar Organics, Habitat Life, Blackrose Organics, Tricanna, and more, as well as Manitoba brand Toba Grown. 
Organigram announced new "tube style" pre-rolls in 10×0.4g packs, taking aim at a sector dominated by products like Redees.  
Aurora announced new infused pre-rolls available through its medical platform, Aurora Medical, "tested at 52.8% total THC."
———————–
Phoena Holdings Inc. (formerly CannTrust) has pulled out of cannabis production entirely and revoked the licence on their 2nd Ontario production facility. "This announcement was really just a formality," Mayor Marvin Junkin tells Pelham Today. "The last harvest was two months ago, and since then, the company has entertained a steady stream of interested buyers and tire kickers. Like all others in the town, I am anxious to see the next chapter unfold for this property."
Greenway, a cannabis producer in Ontario, reported its audited annual financial statements for the year ended March 31, 2023. The company notes an average cash cost per gram expensed for the year of $0.76. Greenway reported $5,621,933 of revenue, a 183% increase in revenue over the prior fiscal year but a loss of $2,605,705.
The Oakville News did a feature on Buzzed Buds, a new retailer in Mississauga also seeking to serve the Oakville area with deliveries. While Mississauga recently moved to allow cannabis stores, they are still banned in Oakville.
The Pointer ran a story on the progress of new cannabis stores in Mississauga and the support they are receiving from the local business community. 
Powassan, ON, two hours east of Sudbury, finally considering allowing cannabis stores. OPP told council: "since the laws changed, I'm not aware of a single issue that's been brought forward to any of our policing location regarding cannabis retail stores."
Matt Lamers ran an interview with Bedrocan founder Tjalling Erkelens about the medical cannabis market. "People were asking me, 'Why don't you do rec?' I said that would take my focus off what I'm really trying to do. I think adult use in the end will be a bear market – the lowest price will prevail," he said in an interview with MJBizDaily.
Solomon Israel ran a feature on consolidations in the cannabis sector, with comments from equity analysts Nadine Sarwat and Jesse Redmond.
The Global Cannabis Intellectual Property Symposium 2023 will be from September 28th-29th at McGill University in Montreal. 
Following up on news from last week, Avicanna has closed the previously announced acquisition of the Medical Cannabis by Shopper's business from Shoppers Drug Mart® and is pleased to announce the launch of an all-new medical cannabis care platform, MyMedi.ca.
According to the 2023 Cannabis Global Price Index (CGPI), Toronto is the 7th highest city in the world, at least in terms of how much cannabis they consume, while Montreal has the cheapest cannabis in the world. Cannabis consumption figures were collected from cities in countries around the world. The City of Toronto ranked 7th for annual cannabis consumption, supposedly smoking 16.7 metric tons a year. Four other Canadian cities were also in the top ten for cheapest weed, with Notre Dame (a suburb of Montreal), Vancouver, Charlottetown, and Annapolis, NS, helping fill out the ranks. 
The CBSA is again reminding people entering or leaving Canada not to bring cannabis. 
In international news, Axios covered the termination of a merger with Cresco Labs, a Chicago-based cannabis producer, and New York-based rival Columbia Care, which would have created the largest U.S. cannabis company by sales.
The Australia Greens a new what we heard report on their upcoming, revised cannabis legalisation bill they plan to table soon. Read the full report here. It includes the allowance for people to make their own edibles at home and to grow up to six plants per household. The sale price is estimated to start at $13 a gram and go down to $6 after five years of operation.
The Greens have four seats in the Senate, where the bill will be introduced. To get anywhere, the bill will need support from the ruling Labour government, which has not indicated any support for legalization.
And finally, a Canadian man caught with cannabis worth €700k in Dublin airport is in custody with local officials.
---
This post was originally published by our media partner here.