Grow Up LIVE (Vol.4):
An Overview of Common Pest and Pathogens with Avoidance Techniques
Aired Thursday, January 14, 2021 @ 2pm EST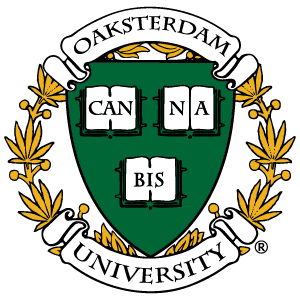 Participants will learn about plant pests and pathogens that infect and devastate cannabis. Jeff Jones will discuss how to identify the different afflictions and learn about abatement strategies, with emphasis on prevention. Your questions will be answered in Q&A!
Presented by: Jeff Jones
Oaksterdam University's Horticultural Instructor & Co-Founder"Oaksterdam"
Hosted by: Av Singh, PhD, PAg
Agronomist, Greenstar Plant Products
• Discover your limited options and the concept of "the least bad choice" when it comes to treating plants for P and P.
• Recognize: How and why the treatment and cure of a disease is often worse than the disease itself.
• Identify: Spider mites, aphids, thrips, powdery mildew, and botrytis. Oh my!
• Identify: How certain P and P can make cannabis flowers unsuitable for certain kinds of human consumption.
• Demonstrate: How to use a jewelers loop to examine leaf surfaces for P and P.
• Understand: The ways in which the reproduction strategies of P and P allow them to remain in a garden space even after the room is completely emptied of plants.
Duration: 1 Hour
Jeff Jones
Oaksterdam University's Horticultural Instructor & Co-Founder"Oaksterdam"
Jeff Jones co-founded the Oakland Cannabis Buyers' Cooperative (OCBC) in 1995 simultaneously creating the downtown cannabis-friendly area known as "Oaksterdam". With Jeff's assistance, the City of Oakland became the first U.S. City to contract with a medical cannabis provider in 1998. Jeff set many precedents from self-regulatory practices that would become the tenants of law to best practices in dispensaries. His cooperative coined the term "dispensary" for medical cannabis!
Jeff was named the defendant in the OCBC Federal Civil case, one of the longest-running medical cannabis cases in history as it traveled all the way through the Supreme Court; the first to ask the question of if cannabis can be provided for medical necessity patients.  He transitioned the OCBC into advocacy and education with the Patient ID Center (formerly OCBC) and shared his expertise with hundreds of thousands of medical cannabis patients, professionals, and experts. He has become known worldwide as an educator in horticulture, with a passion for mitigating pesky pests and pathogens.
Av Singh, PhD, PAg
Agronomist, Greenstar Plant Products
Av Singh is one of the leading authorities on regenerative organic cannabis production. Dr. Singh has authored over 200 peer-reviewed papers, chapters, and extension articles and has been an invited speaker to over 500 workshops, conferences, symposia as well as guest-lecturing at over 30 universities in Canada, the US, the UK, and India. Av has had the privilege of visiting over 2000 farms across five continents which has shaped his extension of holistic, system-based design solutions. Emphasizing a union of traditional knowledge with science, Av works with growers to cultivate an appreciation of plant:soil interrelationships.
Av has recently been appointed to the Cannabis Quality Assurance (CQA) Standards Committee and is a member of the International Cannabinoid Research Society, and was identified as one of the Top 50 Heroes shaping the Canadian Cannabis sector by High! Canada Magazine and a Cannabis Hero by Cannabis Amnesty.  Av is a frequent speaker and advisory board member at  O'Cannabiz and the Grow Up Conferences.