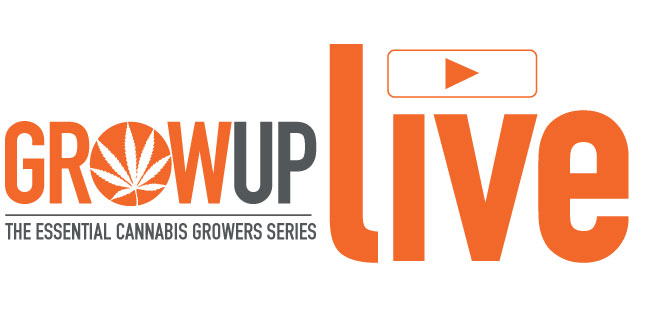 GROW UP LIVE — FREE WEBINAR SERIES
Grow Up is proud to be hosting Grow Up Live — The Essential Cannabis Grower Series. This free series is designed for all aspects of cannabis cultivation and extraction. These webinars are a precursor to our in-person shows in Victoria, BC and Niagara Falls, October 5-7, 2021. So, please join us every month as we bring you some of the top names in cultivation.
Upcoming Grow Up Live webinar series
Grow Up LIVE (Vol. 10):
Choosing the Right Disinfectant to Protect Your People, Plants and Reputation
Picking the right disinfectant product for your operations can be a challenge. Troy explains the science behind the products and the language on the labels to help you make a more informed decision.
Previous Grow Up Live webinar series
Grow Up LIVE (Vol.9):
Canada's Cannabis Quality Crisis
80% of Canadian cannabis is too dry. https://toronto.ctvnews.ca/cannabis-customers-have-been-complaining-ontario-s-pot-is-too-dry-1.5220170.  At least that's what a consumer survey stated for Ontario. We can easily extend the conclusion to include the majority of flower production from coast to coast.
From the time cannabis is cured through packaging, distribution to retail and consumption-a significant amount of precious terpenes evaporate with the water that's coming out of the trichomes. We're talking 40-60% of available terpenes lost!
It's a Cannabis Quality Crisis plaguing the regulated market. And this crisis is largely avoidable if producers protect their stored and packaged flower with precise 2-way humidity control.
Myths abound in the industry about the effectiveness of various humidity control packs in solving this massive problem.
We'll discuss the science behind Boveda's unique position in the industry as the original Terpene shield. And we'll welcome all perspectives in solving the crisis together for the good of the cannabis community worldwide.
Grow Up LIVE (Vol.8):
Psychedelic Therapy
Join us for a high-level overview of the modern history of psychedelic therapy in Canada and beyond. Examining the cultural roots of the modern medical psychedelic renaissance along with a 'psychedelic therapy 101' for the neophyte.
Grow Up LIVE (Vol.7):
What it takes to go Micro
Grow Up LIVE (Vol.6):
Growing great quality cannabis in the outdoors using the principles of regenerative agriculture are increasingly becoming the norm in Canada. From seed or transplant, it all starts with soil health and balanced plant nutrition, but as cannabis and hemp become common the cannabis plant will face increased pressure from emerging pests and pathogens. Join our panel of experts as they share some crop-saving tips on how to grow a healthy cannabis crop this season.
This session will cover:
How cover crops can help reduce disease
Role of microbes in reducing "transplant" shock
What are the new pests and diseases and what to look for
Tips on how to scout large scale cannabis gardens
What are the best tools for your IPM toolbox
Grow Up LIVE (Vol.5):
Achieve a global license to sell. Join Vantage Hemp Co.'s Chief Operating Officer, Deepank Utkhede, and Chief Scientific Officer, Dr. Daniel Chinnapen, as they outline proven strategies to meet the rigorous global certification requirements and achieve compliance to fulfill contracts.
Our expert panel will also take you on a virtual tour of their world-class CBD extraction facility to explore key factors facility operators must consider when receiving EU GMP and other Global Certifications. Topics covered include:
Incorporating safety into building design
Complying with international fire and building codes
Design considerations to prevent product contamination and improve workflow and process efficiency
Factors to consider before selecting extraction equipmentReserve your spot now!
Grow Up LIVE (Vol.4):
Participants will learn about plant pests and pathogens that infect and devastate cannabis. Jeff Jones will discuss how to identify the different afflictions and learn about abatement strategies, with emphasis on prevention. Your questions will be answered in Q&A!
• Discover your limited options and the concept of "the least bad choice" when it comes to treating plants for P and P.
• Recognize: How and why the treatment and cure of a disease is often worse than the disease itself.
• Identify: Spider mites, aphids, thrips, powdery mildew, and botrytis. Oh my!
• Identify: How certain P and P can make cannabis flowers unsuitable for certain kinds of human consumption.
• Demonstrate: How to use a jewelers loop to examine leaf surfaces for P and P.
• Understand: The ways in which the reproduction strategies of P and P allow them to remain in a garden space even after the room is completely emptied of plants.
History of Cannabis Concentrates. Join Frenchy in this free webinar, as he discusses the history of cannabis concentrates and hash making followed by an audience Q&A.
Grow Up LIVE (Vol.2):
Are you considering opening a CBD extraction facility? Join Vantage Hemp Co.'s Chief Operating Officer Deepank Utkhede and Chief Scientific Officer Dr. Daniel Chinnapen as they take you on a virtual tour of their world-class Colorado-based CBD extraction facility to explore key factors operators must consider before their facilities can be up and running.
Incorporating safety into building design, complying with international fire and building codes, design considerations to prevent product contamination, improving workflow and process efficiency, and factors to consider before selecting extraction equipment will all be covered in this interactive and engaging panel discussion. You won't want to miss this!
Grow Up LIVE (Vol.1):
Plant Performance: Understanding KPIs for Growers, Business and Your Retail Brands
This free webinar is designed for C-level executives and cultivation teams to better understand the relationship between Key Performance Indicators (KPIs), environmental controls, and cannabis crop performance. An engaging discussion with cultivation and production experts will help you build consistent, quality yields and distinct retail brands.