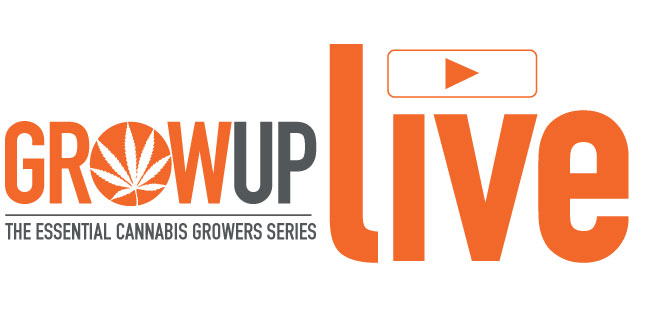 GROW UP LIVE — FREE WEBINAR SERIES
Grow Up is proud to be hosting Grow Up Live — The Essential Cannabis Grower Series. This free series is designed for all aspects of cannabis cultivation and extraction. These webinars are a precursor to our in-person shows in Victoria, BC, June 14-16, 2021 and Niagara Falls, September 1 – 3, 2021. So, please join us every month as we bring you some of the top names in cultivation.
Upcoming Grow Up Live webinar series
History of Cannabis Concentrates. Join Frenchy in this free webinar, as he discusses the history of cannabis concentrates and hash making followed by an audience Q&A.
Previous Grow Up Live webinar series
Plant Performance: Understanding KPIs for Growers, Business and Your Retail Brands
This free webinar is designed for C-level executives and cultivation teams to better understand the relationship between Key Performance Indicators (KPIs), environmental controls, and cannabis crop performance. An engaging discussion with cultivation and production experts will help you build consistent, quality yields and distinct retail brands.
Are you considering opening a CBD extraction facility? Join Vantage Hemp Co.'s Chief Operating Officer Deepank Utkhede and Chief Scientific Officer Dr. Daniel Chinnapen as they take you on a virtual tour of their world-class Colorado-based CBD extraction facility to explore key factors operators must consider before their facilities can be up and running.
Incorporating safety into building design, complying with international fire and building codes, design considerations to prevent product contamination, improving workflow and process efficiency, and factors to consider before selecting extraction equipment will all be covered in this interactive and engaging panel discussion. You won't want to miss this!