Grow Up Awards Nominees Annouced. Voting Open
Award Ceremony September 12th, 2022 • Niagara Falls ON

2022 Award Nominees
The nominations have been processed and we have our list of finalists for the 3rd Annual Grow Up Awards.  For a complete list of finalists, please visit https://growupawards.com/vote/nominees
Join us as we celebrate the best in the industry. 
• Cocktail Reception
• 2022 Grow Up Industry Awards Ceremonies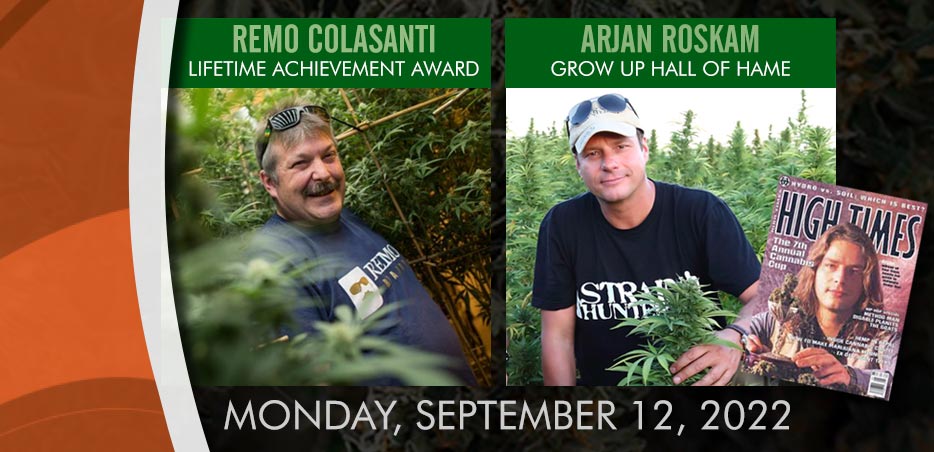 Tickets on sale now.
LIMITED VIP Tables are available. Theatre seating is general admission. 
$60/ticket. LIMITED VIP tables of 8 available: $600
1. Master Category
Master Grower of the Year
Adrian Everett
Brett Pendleton
Bruce Walker
Chris Cagnoni
Dustan McLean
Gregory Bryan Hood
Jerome Brassard-Duperre
Katelyn Fiala
Natasha Smith
Nathaniel Garneau
Nikita Elijah
Pat Scanlon
Patrick Page
Rob Baldwin
Stacie Hollingworth
Steve Sissons
Tyson Cramer
Craft Producer of the Year
Canasyga
Carmel Pharms
Habitat Cannabis
MTL Cannabis
Noya Cannabis Inc.
Organnicraft
Parkland Flower
Qwest
StoneGrove
Celebrity Grower of the Year
Berner
Jim Belushi
Melissa Etheridge
Seth Rogen
Snoop Dogg
Tommy Chong
Willie Nelson
Extraction Specialist of the Year
Caitlin McIlhone – High Fidelity Services
Charlie Gibson
El Hasho – BIG
Gord Nichol – North 40
Hugo Leon de Gante – Lady Jane Labs
Lindsay Labelle – Guerilla Solventless
Patrick Rasmussen – Distinkt
Wes Gauthier
Cannabis Education Award
AAPS
BlueSky Organics Corp.
Canna Reps
Cannabis 45
NACPT PHARMA COLLEGE
Niagara College
University of Guelph
University of Toronto
University of Waterloo
Outstanding Cannabis Cultivation Research
Adel Zarei
BlueSky Organics Corp.
Dr. Dedi Meiri
Dr. Jeremy Warren
Gene-eBank
Mother Labs
Sylvain Gaudreau
Online Cannabis Cultivation News Source
Andrew Nunez-Alvarez
Cannabis News Wire
Cannabis Prospect Magazine
Cannabis Wiki
Grow Opportunity
High Canada Magazine
Maximum Yield
Remo Colasanti
St Fatty's Day/THCNN
Stratcann
The GrowthOp / Postmedia
2. Equipment/Products
Product of the Year
CALI – Pink Diamonds
Canadian Cannabis Exchange
CryoCure Freeze Dry Equipment
Ekidna
Feather – Rapid THC Spray
gGro Horticulture Solutions
Ghost Drops
Hash Co
Hydrobucket
MyCrops
PINNRZ Inc
Pure Rezolve
Pure Sunfarms Pink Kush
Quiclone
Seaborn Organics
VT Dry & Cure Technologies
Wacky Willy
Environmental Impact Award
Bio Quality
BizReps
CannaGreen Packaging
Cryo Cure
Growers Oxide
HealthView Pharms Inc
Humble Bees Botanical
Myrna Gillis, CEO Aqualitas Inc.
Pure Coco
Seaborn Organics
Packaging Equipment
Abbey Equipment Solutions
Aesus Packaging Systems, Inc
All-Fill
BellatRx Inc.
BIS Solutions
Boveda
CannaGreen Packaging
CPM Innovation
Dope Automation
ND Supplies
Nitrotin
Paxiom / Canapa
Lighting System
Aelius LED
Agnetix
AUVL
California LightWorks
Ego Gtech
Gavita
gGro Horticulture
Green Amber Canada
Grow Solar LLC
Heliospectra
Illumenedge
Zortech LED Canada
Drying And Curing
Canncas
Conviron
Cryo Cure
Darwin Chambers
Enwave
iDry and Cure
Lift And Grow
VT Dry & Cure Technologies
Best Growing Media
Berger
BlueSky Organics Corp.
Fafard
Fibre Dust LLC
Gaia Green Living Soil
Growdan
GrowHaus
Huplaso
Medicoir Coco
Milleniumsoils Coir, Vgrove Inc.
PROMIX
Pure Coco
Riococo
Terra Firma Plant Technologies Ltd.
HVACD System and Controls
aGROair
Conviron
D'Anterior Corp
Enertec
Environmental Systems Corporation
Go Hot Water
Naylor Building Partnerships
Quest
SolutionAir
Timfog Engineering Co
Extraction Equipment
BioXtra Labs Inc.
ClearSolv Solvents Inc.
ExtractionTek Solutions
extraktLAB | United Science
Luna Technologies
Medxtractor Corp.
Thar Process
Vitalis Extraction
Wacky Willy
Testing/Laboratory Equipment
Agilent
CanGenX
Dark Heart Industries
Ekidna
Hoskin Scientific
Keystone Labs
M&L Testing Equipment
Omni International, Inc
Rad Source Technologies
SRC Environmental Analytical Laboratorie
Thermo Fisher Scientific
Validation Tech Inc.
Zef Scientific
Best Trimming Equipment
CenturionPro
Eteros
EZ Trim Bud Trimmer
GreenBroz
Mobius
The Trimiminator
Tom's Tumbler
TRIM QUEEN
Trimpro
Twister Trimmer
UltraTrimmer
Best Sanitation Product or Company
AEGIS®
EnviroNize®
GroWater
Growers Oxide
HYCLEAN™
Pure Rezolve
SHYIELD
Post Extraction Equipment
Across International
Gilson, Inc.
Lab Society
Pall Corporation
Purolite Corporation
3. Company/Supplier
Best Packaging, Labeling & Supplies
Canadian Copacking Group Inc.
Cannabis Dispensary Supply
CannaGreen Packaging
Cannasupplies
Delta 9 Pak
Detonate Labels & Packaging
Dope Automation
MedLock (CannaLock)
ND Supplies Inc
Solve4 Solutions
Tychon Packaging Inc.
Best Nutrients and Biostimulants Product
Anatis
Bio Quality
BlueSky Organics
CanGenX
CANNA
Druid Nutrients Canada
Emerald Harvest Canada
Gaia Green All Purpose
GreenPlanet Nutrients
Hawthorne Gardening Company
Humble Bees Botanical
MIIM Horticulture
Pure Cannabis Nutrients
Remo Nutrients
Seaborn Organics
Uber Nutrients
Cannabis Consultant of the Year
4 Plant
Av Singh – Flemming & Singh Cannabis Inc.
Canadian Cannabis Exchange
Cannabis License Experts
CannDelta Cannabis Consulting
D'Anterior Corp
David Hyde- Hyde Advisory/CannaNavigators
Growbox Consulting
Jonathan Hirsh
Meristem Cannabis Consultanting
Solve4 Solutions
Best Extraction Services Provider
Ayurcann
BioXtra
CannaPiece Corp
Distinkt Cannabis
Dymond Concentrates 2.0
Evolved Extraction
extractX
Final Bell
Maratek
Neptune Wellness
Nextleaf Labs Inc.
Pantheon Cannabis
Valens
Best Lab/Testing Facility
A&L Canada Laboratories Inc.
Canvas Labs
CARO Analytical Services
Cedarlane Labs
Ekidna
Eurofins
High North Laboratories Inc
Pura Analytical Labs
Sigma Analytical Services
SRC Environmental Analytical Laboratories
Validation Tech Inc.
Integrated Pest Management Company of the Year
Abell Pest Control
Anatis Bioprotection
BioBee
BioBest
Crop Defenders
Koppert
Natural Insect Control
Best Engineering Service and Facility Design
D'Anterior Corp
Dope Automation
GGS Structures Inc.
Kingspan
Lab Society
Laporte Consultant
Olympia Steel Buildings
Paul Boers Manufacturing
Structural Panels Inc.
Best Genetics / Seeds Provider of the Year
4plant
Apollo Green
CanGenX – ERBACEOUS
DNA Genetics
Great Gardener Farms
Green House Seed Co
Humboldt Seed Company
InPlanta Biotechnology
Mother Labs
Nymera
Segra
Serious Seeds
Cannabis Product Distributor
Joint Ventures Craft Cannabis
Mercari Life
O2O
ROSE Life Science
The Legacy Market
Best Plant Propagation/Breeding
Dr. Darryl Hudson
Klonetics
Mother Labs
Quiclone
Safari Flower Co.
Segra
Best Cannabis Cultivation Supplier/Distributor
BIOFLORAL Canada
GreenPlanet Wholesale
Growhaus Supply
Hawthorne Gardening Company
Innovative Growers Equipment
ND Supplies Inc
Sun Parlour Grower Supply
WeShare Supply
Cannabis Cultivation Magazine of the Year
Cannabis Prospect Magazine
Garden Culture Magazine
Grow Magazine
Grow Opportunity
High Times
High! Canada Magazine
Maximum Yield
The GrowthOp / Postmedia