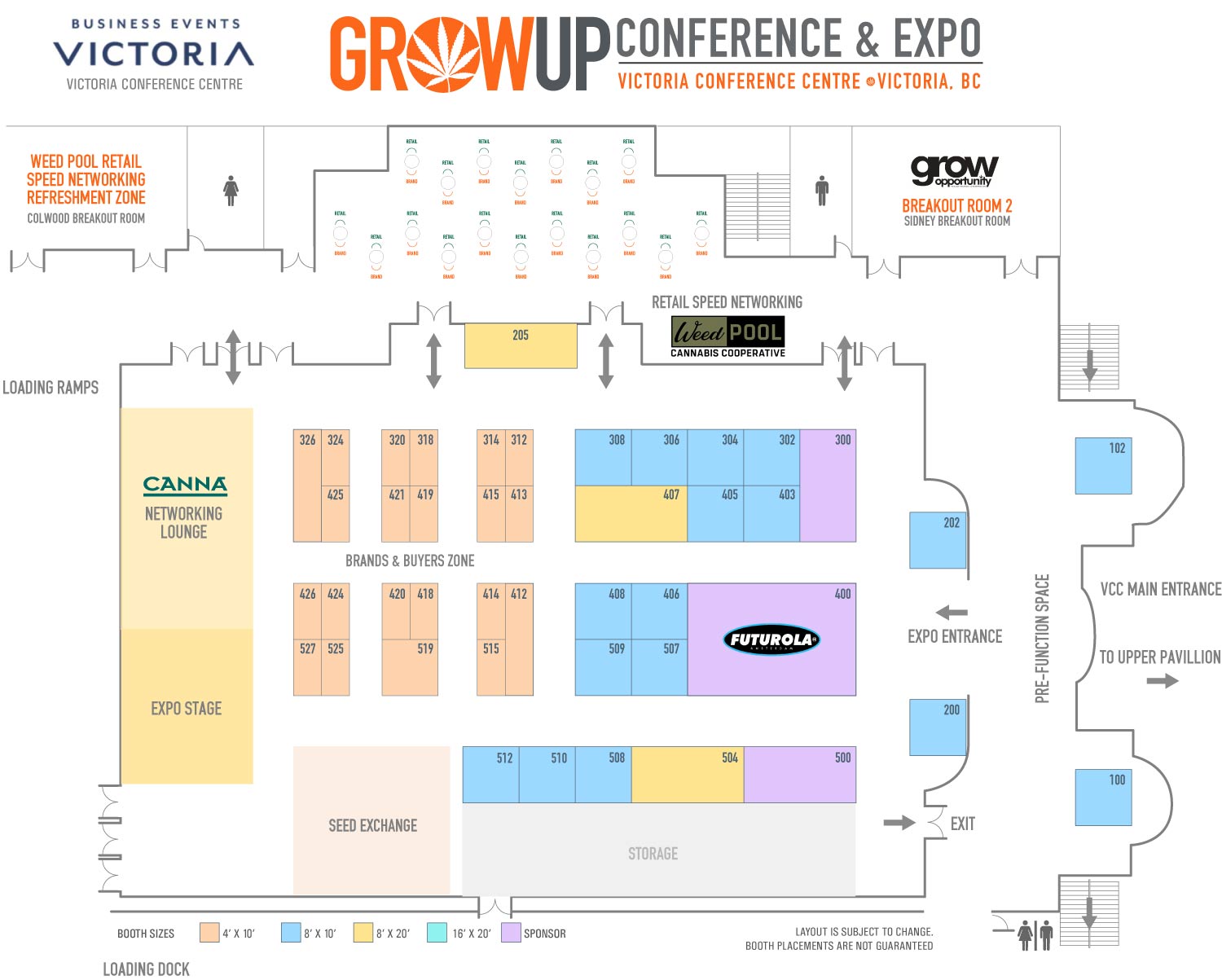 2023 Grow Up Victoria Exhibitors
A&L Canada Laboratories Inc.
Canadian Cannabis Tourism Alliance
Cannapulse Dispensary Magazine
Community Savings Credit Union
LEEFOG Technology Co., Limited
Weed Pool Cannabis Cooperative
Who can I Expect to Meet at Grow Up?
Below is a list of of the companies that will be exhibiting, speaking, sponsoring or attending Grow Up Victoria. This list is updated regularly.
A&L Canada Laboratories Inc.
Adastra Labs
All Nations
Altro Industries Inc
Anatis Bioprotection
ANC Inc.
Athena AG
Aurora
AVEO
BC Liquor Distribution Branch
BLUNTS&BEANS
BOXX
Burnside Buds
Burnside Cannabis
BZAM
BZAM Ltd.
Canadian Cannabis Tourism Alliance
Canna Cold Lake
Cannapulse Dispensary Magazine
CannaScoop Inc.
CannaWorld Ventures
Canopy Growth
Capital City Cannabis Company Ltd
CARO Analytical Services
Chucky Seeds
Coast Salish Canna LP
Commercial Lighting
Community Savings Credit Union
Costa Canna
Craft Kings
Cronos Group
CROPSIFY
Cropsify Compliance Software
DabX Canada
Decibel Cannabis Company
DUNN CANNABIS
Ekidna
EQUA Specialty Risk Partners Corporation
Eventdex
Evora Technologies
Freedom Cannabis Inc
FTL Distribution Co.
Futurola USA
Garden Culture Magazine
Grand Master LEDs
Great Gardener Farms
Green Hedge
GREEN JOY
Green Nation Naturals. Inc
GreenPlanet Wholesale
Greentone
Greentone Enterprises Inc.
Grizzlers
Grodan
Happy Isle Cannabis
Harvest Moon Cannabis
Herb and Smoke Cannabis shop
High Tide Inc
Highly Educated
Hybrid Infusions Ltd.
Hyde Advisory
Hydrofarm
IMS
Indiva
Innovating Plant Products Inc
ISLANDCANNA SEEDS inc
Islandcanna Seeds Inc.
Jiwa Cones
Jupiter Research
Jupiter Research CCELL
Kaya Connection
konehedz
Kootenay Cultivar
Koppert Canada
kush Mountain craft cannabis inc
Lasqueti Cannabis Corp
LEEFOG Technology Co., Limited
Mantra Cannabis
Matt's Greenspace
MaxxCann Insurance Services Ltd
Medicoir – Kalahari Connections Canada Ltd.
MIIM Horticulture
MJ Supply Co
Motif Labs
No Limit Supply Ltd.
nuu-chah-nulth economic development corporation
Organigram
Petroglyph Development Group
Point 3 Biotech
Pure Fire Co.
Purple Hills
QAS Ltd
QUADESSENCE LTD
Rad Source Technologies
Reefertilizer
Ritual Green
Rubicon Organics
Segra International
Sheesh Hash Sodas
Smoker Farms LTD
Stigma Grow (Dab Bods)
TBD
The House of Craft
Trees Cannabis
TREES Cannabis CORP
Trichome Consulting Services Inc.
ufeelu
Unite Biotechnical
Unity Cannabis
University of British Columbia
Victoria Cannabis Company
Violet Wild Cannabis Co
Weed Pool Cannabis Cooperative
World Wide Brands
WYLD
Zip Master